2013 U.S. Initial Quality Study Results
6/19/2013
J.D. Power has released the results of its latest
Initial Quality Study
(IQS), the company's industry benchmark study that measures new-vehicle quality after the first 90 days of ownership. A key finding of this year's study is that nearly two-thirds of the problems experienced in the first 90 days of ownership are related to the vehicle's design, as opposed to components that malfunction. For example, the component may be working as designed, but owners deem it a problem because it may be difficult to understand or operate.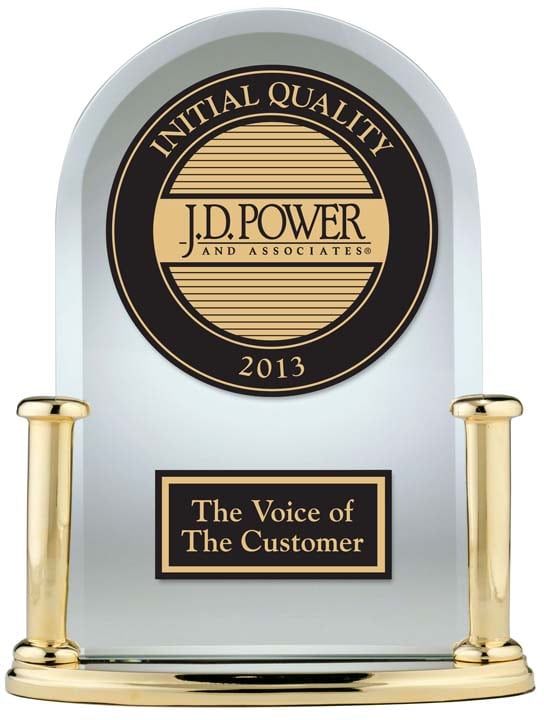 "Automakers are investing billions of dollars into designing and building vehicles and adding technologies that consumers desire and demand, but the risk is that the vehicle design, or the technology within the vehicle, in some cases may not meet customer needs," said David Sargent, vice president of global automotive at J.D. Power. "Keep in mind that automakers are trying to design vehicles that appeal to a broad array of consumers, and what works for the majority may not work for all. The successful companies will be those automakers that find a way to give customers the technology they want while at the same time making it sufficiently intuitive so all customers find it easy to use."
Demand for Technology Presents Challenge for Automakers
The study finds that many of the problems owners have with their vehicle relate to the driver interface, which includes voice-recognition or hands-free technology, Bluetooth pairing for mobile phones, and the navigation system, among others. According to Sargent, some of these problems may be mitigated at the time of purchase by the salesperson explaining how to use the technology, and others may be remedied with software changes. However, features that are difficult for owners to operate, hard to understand, or inconveniently located in the vehicle likely will remain a problem for the life of the vehicle.
"Owners desire, and in some cases are demanding, more content in their new vehicles, especially technology-related features, and automakers are trying to provide it," said Sargent. "The majority of owners don't experience problems, but those who do are frustrated. That's understandable, especially when owners often keep their new vehicle for five years or more. In contrast, when consumers have a problem with their smartphone, they are likely to replace the phone much sooner."
The majority of problems owners experience with their new vehicle in the first 90 days of ownership are design-related rather than manufacturing defects. These design problems are far less likely to be successfully resolved at the dealership than are defects, according to the study.
Next
Page 1 of 3