2011 APEAL Study Results
7/27/2011
In spite of high consumer demand for tech-related features, increasing government fuel economy and safety standards, and ever-changing market conditions, auto manufacturers are managing to design and build vehicles that owners find appealing. Indeed, owner satisfaction with the performance and design of their new vehicles is at its highest levels since 2006, according to a new study from J.D. Power and Associates.
The
J.D. Power and Associates 2011 Automotive Performance, Execution and Layout (APEAL) StudySM
examines how gratifying a new vehicle is to own and drive. The study reveals that the industry average APEAL score in 2011 increases by 3 index points from last year-to 781 (on a 1,000-point scale) from 778 in 2010. The
2011 APEAL Study
is based on owner evaluations of more than 90 vehicle attributes, and complements the recently released
J.D. Power and Associates 2011 US Initial Quality StudySM (IQS)
, which focuses on problems experienced by owners during the first 90 days of ownership.
The APEAL Study measures owner satisfaction in 10 categories: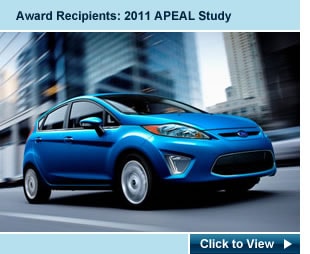 Fuel Economy
Audio/Entertainment/Navigation
Vehicle Interior
Seats
Engine
HVAC
Storage
Visibility
Driving Experience
Vehicle Exterior
Of the 10 APEAL measures, Vehicle Exterior, Interior, and Seats have improved the most, each by 6 index points, compared to 2010. Fuel Economy is the only measure that has decreased from last year-by 17 index points-likely due to increasing gas prices, which are about 30% higher compared to the same time period last year.
Next
Page 1 of 3