2010 Initial Quality Study Results
1/1/2010
This year, consumers were asked to report problems experienced in eight categories:
Features/Controls/Displays
Exterior
Engine/Transmission
Interior
The Driving Experience
Audio/Entertainment/Navigation
HVAC (Climate controls)
Seats
Over the years, the most frequent types of problems that owners report will vary. In the
2010 Initial Quality Study
, for instance, the top five, most-frequently-reported problems are:
Excessive wind noise
Climate controls are difficult to use/see, or are in a poor location
Hands-free communication system does not recognize user voice commands
Front audio/entertainment system controls are difficult to use or are in a poor location
Materials that scuff or soil easily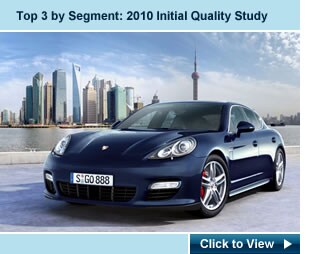 Porsche is Highest-Ranked Nameplate
Following are highlights at the nameplate, or brand, level in the
2010 Initial Quality Study
:
After ranking No. 2 overall among nameplates in the 2009 IQS, Porsche leads the nameplate ranking in 2010, averaging 83 PP100.
Acura, by way of a 25-PP100 improvement, moves up 12 rank positions from the 2009 study to rank No. 2 in this year's study.
Mercedes-Benz, improving from its No. 6 position in the 2009 study, climbs three rank positions to the No. 3 spot.
Lexus, the highest-ranking nameplate in the 2009 study, moves to the No. 4 position.
The Ford brand enters the top five in the nameplate rankings for the first time.
Rank positions 6 through 10 are held by Honda, Hyundai, Lincoln, Infiniti and Volvo, respectively.
Mini, which reduces its PP100 score by 32 from last year's study, posts the largest improvement this year.
Lincoln (23 fewer PP100) enjoyed large gains compared to last year, as well.
Previous
Next
Page 3 of 27