2012 APEAL Study Results
7/25/2012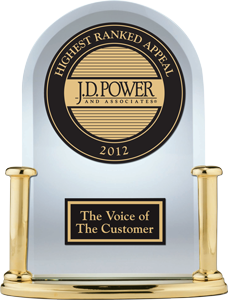 Owners Find That Downsizing Doesn't Necessarily Mean Downgrading
The adage "Good things come in small packages" has never been more true, at least when it comes to today's new cars and trucks. The latest automotive study by J.D. Power and Associates suggests that owners of small cars and light trucks are often just as satisfied with their vehicles as owners of larger ones.
During the past six years, vehicle appeal, as measured by the
J.D. Power and Associates U.S. Automotive Performance, Execution and Layout (APEAL) StudySM
has significantly increased. Today's smaller vehicles are, in many cases, more appealing than the larger vehicles they replaced. In 2012, the average APEAL Study score for vehicles in the compact/sub-compact segment is 765 points (on a 1,000-point scale), which is the same as the average for mid vehicles in the study just four years ago. Similarly, in 2012, the average APEAL Study score for vehicles in the mid premium segment is 844, the same as the average for large premium vehicles four years ago.
"New-vehicle buyers who down are not making the sacrifice that they once were," said David Sargent, vice president of global automotive at J.D. Power and Associates. "Automakers are heavily focused on providing the U.S. market with appealing smaller models, and buyers may be surprised at just how good some of them are."
The 2012 APEAL Study finds that 27 percent of new-vehicle buyers who replaced a vehicle downd--meaning they purchased a new vehicle in a smaller segment than the vehicle they replaced. In contrast, only 13 percent of buyers "upd," while 60 percent purchased a new vehicle in the same segment as their previous vehicle.
"For many years, almost twice as many vehicle owners have down-, compared with those who have up-d," said Sargent. "Although larger models continue to attain higher APEAL Study scores than smaller models, as they typically provide higher performance, have more pleasing styling, are more comfortable and include more features, owners who down find that today's compact models are not the 'econoboxes' that they may have imagined. For example, most compact vehicles are more substantial than in the past and perform much better on the road. They also have many of the features and appointments that were previously found only on larger models such as navigation system and various entertainment options. Vehicle owners who down are finding that they are actually upgrading when they buy a new vehicle."
The downsizing trend also has an impact on owner satisfaction with the fuel economy of their new vehicle. While overall vehicle appeal continues to improve, increasing seven points year over year, the greatest improvement is in fuel economy. Furthermore, 47% of owners say gas mileage was one of the most important factors in choosing their new vehicle, up from 40 percent in 2011.
Next
Page 1 of 2