2013 India Vehicle Dependability Study (VDS)
J.D. Power Asia Pacific Reports:
Long-Term Vehicle Dependability in India Declines in 2013 as Number of Unexpected Repairs Increases
Maruti Suzuki and Toyota Each Receive Two Model Awards
SINGAPORE: 28 June 2013 -- Overall dependability of vehicles in India declines for the second consecutive year, according to the J.D. Power Asia Pacific 2013 India Vehicle Dependability StudySM (VDS) released today.
Special Video for India Automakers: "Recognizing Excellence, Driving Results!"
In this video, we tackled the following issues:
Reasons for Decline in Overall Dependability
Problem Areas Reported by Car Owners
The Aging Process of a Vehicle
Performance of American Nameplates in VDS Study
Performance of Maruti Suzuki and Toyota Nameplates in VDS Study
The study, now in its sixth year, measures problems experienced by original owners of 30- to 42-month-old vehicles in 169 different problem symptoms across nine vehicle categories: vehicle exterior; driving experience; features, controls and displays; audio and entertainment; seats; heating, ventilation and air conditioning (HVAC); vehicle interior; engine; and transmission.
In 2013, overall vehicle dependability averages 280 problems per 100 vehicles (PP100), compared with 225 PP100 in 2012. Overall dependability is based on the number of problems reported per 100 vehicles, with a lower score reflecting higher long-term vehicle quality.
The 24 percent increase in problems in 2013 is across problem categories and models, and it cannot be attributed to a significant increase in one or more areas, or to all-new models included in the study. However, the study finds that an increased number of vehicles in India do not have extended warranties or service contracts, and the frequency whereby owners take their vehicle for scheduled or routine maintenance has decreased. Longer periods between maintenance tend to lead to an increase in problems with the vehicle.
Unexpected Repairs Increase
Among vehicle owners surveyed, 43 percent indicate having experienced unexpected repairs on their vehicle, up 4 percentage points from 2012. In addition, the proportion of owners who have taken their vehicle in for repairs at an authorized service centre three or more times, has doubled from 2012. On average, these customers report 2.4 times more problems than those who have not taken their vehicle in for repairs (418 PP100 vs. 174 PP100, respectively).
"Undergoing unexpected repairs has a very strong bearing on the perception of vehicle reliability, durability and overall vehicle quality," said Mohit Arora, executive director, J.D. Power Asia Pacific. "Given that the average ownership cycle in India is approximately five years, the owners surveyed in this study are close to replacing their current vehicles. Higher incidences of repairs are likely to dissuade them from purchasing the same make in the future."
Among owners who indicate that they did not experience problems with their vehicle, 70 percent say they "definitely would" recommend their current vehicle to others. When owners experience one or more problems with their vehicle, the likelihood of a recommendation drops to 46 percent.
Routine Servicing Declines
The study also finds that the routine servicing and maintenance at authorized service centres has been declining during the past two years. Only 69 percent of owners have taken their vehicle to an authorized dealer/ service centre four or more times, down from 91 percent in 2011.
"Conforming to a prescribed servicing schedule helps to keep vehicle problems and incidences of unexpected repairs in check," said Arora "One way of ensuring that owners continue to regularly service their vehicle at authorized service centres, particularly in the post-warranty period, is by offering an extended warranty. This year the proportion of owners who are covered under an extended warranty program has declined, which may have contributed to the decline in the frequency of service visits."
2013 India VDS Rankings
The study includes 61 models in 11 vehicle segments: entry compact; compact; premium compact; entry midsize; midsize; premium midsize; entry luxury; luxury; multi-utility/multi-purpose vehicle (MUV/ MPV); sport-utility vehicle (SUV); and van.
Maruti Suzuki and Toyota each have two models that rank highest in their respective segments. Maruti Suzuki's A-star ranks highest in the compact segment and the Swift Dzire ranks highest in the entry midsize segment. Toyota receives model awards for the Innova and Fortuner in the MUV/ MPV segment and SUV segment, respectively. Honda City ranks highest in the midsize segment, and new entrants Chevrolet Cruze and Ford Figo receive awards in the premium midsize and premium compact segments, respectively.
Special Video for Car Owners: "Making Better Decisions" Find out how your car performs!
In this video, these are the topics that we addressed:
Importance of the findings to prospective car buyers
Reasons why car owners are not regularly servicing their cars
Difference between regularly and non-regularly serviced cars
Key Takeaway for Car Owners
The 2013 India Vehicle Dependability Study is based on evaluations from 7,032 original owners who purchased a new vehicle between July 2009 and September 2010. The study includes 61 models covering 16 nameplates and was fielded from January through April 2013 in 25 cities across India. The Vehicle Dependability Study is one of two J.D. Power Asia Pacific automotive quality studies for the India market. The 2013 India Initial Quality Study (IQS), which measures problems of new vehicles at 2 to 6 months of ownership, will be published in November.
About J.D. Power Asia Pacific
J.D. Power Asia Pacific has offices in Tokyo, Singapore, Beijing, Shanghai and Bangkok that conduct customer satisfaction research and provide consulting services in the automotive, information technology and finance industries. Together, the five offices bring the language of customer satisfaction to consumers and businesses in China, India, Indonesia, Japan, Malaysia, Philippines, Taiwan and Thailand. Information regarding J.D. Power Asia Pacific and its products can be accessed through the Internet at
www.jdpower.com
.
Media e-mail contact:
xingti_liu@jdpower.com.sg
About J.D. Power
J.D. Power is a global marketing information services company providing performance improvement, social media and customer satisfaction insights and solutions. The company's quality and satisfaction measurements are based on responses from millions of consumers annually. Headquartered in Westlake Village, Calif., J.D. Power has offices in North America, Europe and Asia Pacific. For more information on car reviews and ratings, car insurance, health insurance, cell phone ratings, and more, please visit
JDPower.com
. J.D. Power is a business unit of McGraw-Hill Financial
.
About McGraw Hill Financial
McGraw Hill Financial (NYSE: MHFI), a financial intelligence company, is a leader in credit ratings, benchmarks and analytics for the global capital and commodity markets. Iconic brands include: Standard & Poor's Ratings Services, S&P Capital IQ, S&P Dow Jones Indices, Platts, CRISIL, J.D. Power, McGraw Hill Construction and Aviation Week. The Company has approximately 17,000 employees in 27 countries. Additional information is available at
www.mhfi.com.
Media Relations Contacts:
XingTi Liu; J.D. Power Asia Pacific; 08-Shenton Way, #44-02/03/04; Singapore, 068811; Phone +65-67338980
;
xingti_liu@jdpower.com.sg
John Tews; J.D. Power; Troy, Mich.; (248) 680-6218
;
media.relations@jdpa.com
Follow us on Twitter:
@JDPower
No advertising or other promotional use can be made of the information in this release without the express prior written consent of J.D. Power.
www.jdpower.com/corporate
# # #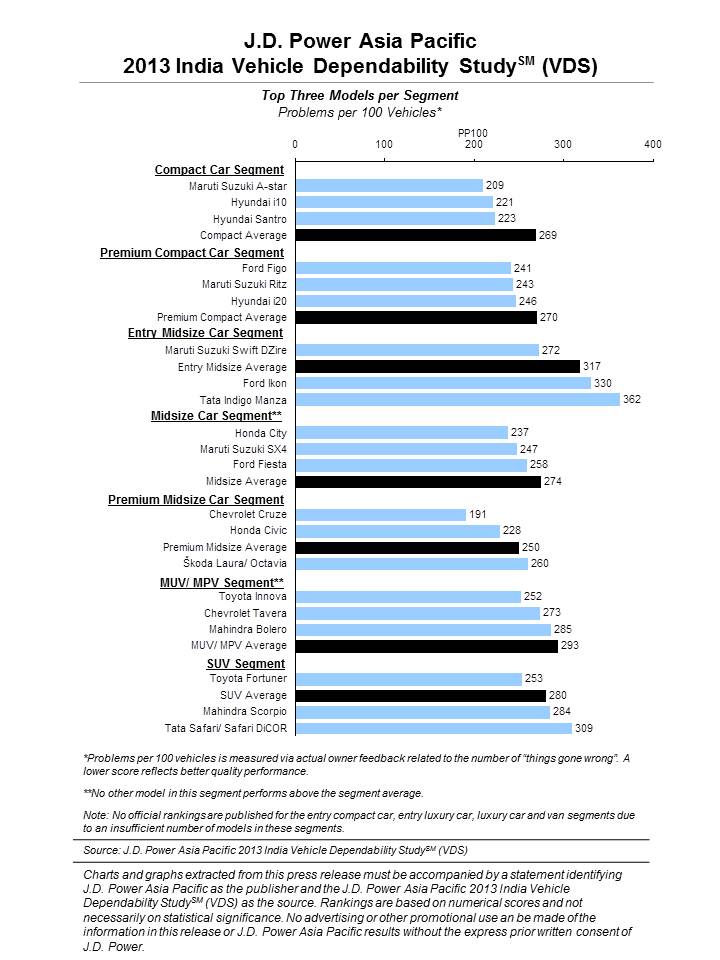 Download Article
Having Trouble Downloading Article? Get Adobe Acrobat Reader