Concept-Saab 9-X Air BioHybrid Convertible Preview
2/24/2012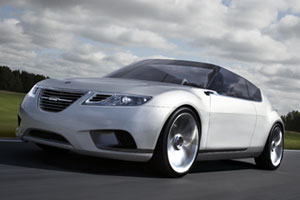 Critical Knowledge:
Convertible concept designed in parallel with 9X BioHybrid Concept
1.4-liter, Saab BioPower engine
Uses E85 bioethanol fuel and hybrid technology
Unique Canopy Top and wraparound glass, including rear screen
Offers 4-passenger seating with sports car proportions
Introduction
First introduced at the Paris Motor Show, Saab debuts the new 9-X "Air" BioHybrid Concept Convertible in North America at the Los Angeles Auto Show. The concept comes some 25 years after the automaker's first convertible was unveiled and this newest Saab concept hints at what future droptop design may look like. Designed in parallel with the 9-X BioHybrid Concept, the 9-X Air BioHybrid shares the same highly-efficient powertrain-a small, 1.4-liter, Saab BioPower turbocharged engine that uses hybrid technology and E85 bioethanol fuel.
For more information:
Next
Page 1 of 4