2010 Lotus Evora Preview
1/1/2010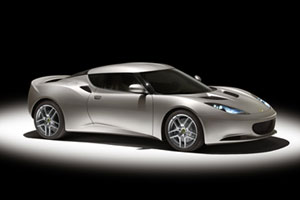 Critical Knowledge:
The Lotus Evora is an all-new model for 2010
First all-new Lotus in more than a decade
World's only production mid-engine 2+2
280-hp, 3.5-liter V-6 powerplant
Estimated 0-60 mph in less than 5 seconds
Deliveries begin in spring 2009
Introduction
The uncompromising 2-seat Lotus Elise sports car has been on the market for more than a decade. Following its success, and adding a second model to the lineup, the British automaker Lotus has introduced an all-new 2+2 sports car set to debut at the British Motor Show in late July. Named the Evora, the car is designed for people who desire exotic sports car design and high performance. Unlike the raw driving experience of the roadster Elise (and platform-sharing Exige coup_), Evora offers comfortable real-world usability and passenger amenities. In similar fashion to most exotic sports cars, the Evora will be limited to just 2,000 units annually-adding exclusivity for those lucky enough to put one in their garage. According to Lotus, deliveries of the new model are scheduled for spring 2009.
For more information:
Next
Page 1 of 4