2010 Maserati GranCabrio Preview
1/1/2010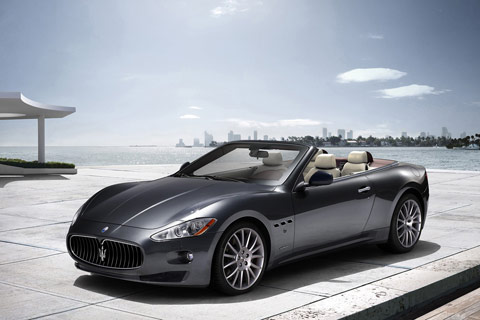 Critical Knowledge:
Shares the Maserati GranTurismo platform
Four-passenger convertible
Power-operated folding canvas roof
Standard engine is a Ferrari-sourced 4.7-liter V-8
Rear-wheel drive
Manufactured in Italy
Available in the second quarter of 2010
Introduction
In 1947,
Maserati
introduced its first road car, the GranTurismo, to the world. Sixty years later, at the 2007 Geneva Motor Show, the current GranTurismo was unveiled. While the first GranTurismo was based on the racing chassis of the Maserati A6 (total production only 58 units), the latest iteration is based on
Maserati's flagship Quattroporte sedan
. Styled by Pininfarina's Jason Castriota, with more than a few hints of the
Ferrari 599 GTB
in the sheetmetal, the 4-passenger closed-roof coupe is built on a shortened Quattroporte platform with two Ferrari-sourced 8-cylinder powerplants.
Following the success of the GranTurismo, Maserati has introduced its GranCabrio convertible, based on the coupe's platform. The all-new drop-top is designed to be a true 4-seater, "so that the rear passengers are not merely supporting actors, but co-stars of the journey," says Maserati. As is the automaker's tradition, the power-operated roof is strictly canvas-made. The GranCabrio is "a special car aimed at refined connoisseurs," adds the automaker.
The arrival of the GranCabrio completes Maserati's lineup which now includes three models: Quattroporte, GranTurismo and GranCabrio. The GranCabrio will be Maserati's first convertible produced at the Viale Ciro Menotti Maserati factory in Modena, Italy, starting in early 2010.
For More Information:

Next
Page 1 of 3