2010 Saab 9-5 Preview
1/1/2010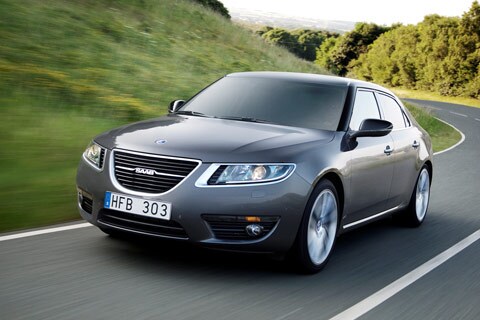 Critical Knowledge:
Completely redesigned, 2010 Saab 9-5 luxury sport sedan
New look inspired by Scandinavian design, Aero X concept
Wraparound window design evokes Saab's aircraft heritage
Available in Linear, Vector or Aero models
All-turbo powertrain, including a 160-hp, 2.0-liter diesel engine; 220-hp, 2.0-liter gasoline engine; and a 300-hp, 2.8-liter V-6 engine (offered exclusively with XWD, Saab's all-wheel-drive system)
Shortly after launch, Saab promises a small, 1.6-liter gasoline turbo with 180 hp will be introduced, together with a 2.0-liter BioPower E85-capable engine
Six-speed transmission mated to all engines
Two suspension layouts, both available with a sport setting
Available high-tech features include:

Head-up display (HUD)
Bi-Xenon adaptive lighting
Adaptive cruise control
Saab DriveSense adaptive chassis with real-time damping control
Keyless entry and starting
Tri-zone air conditioning
Dynamic parking assistance
Saab XWD (cross-wheel drive) with rear eLSD (electronic limited-slip differential)

Will be unveiled to the public at the 2009 Frankfurt Motor Show
To be built at Saab's headquarters in Trollh_ttan, Sweden
Sales to start toward second half of 2010 model year
Introduction
Saab, the Swedish automaker known for its "quirky" design, center-console-mounted ignition and its "Born From Jets" ad campaign touting the company's aircraft heritage, is getting a fresh start. As the brand transitions to new ownership, Saab is returning to its roots, focusing on aircraft-inspired, progressive Scandinavian design and a driver-oriented cockpit. The first model to emerge from the "new" Saab is the redesigned, 2010 Saab 9-5 premium sport sedan-the brand's flagship model, which joins the existing Saab 9-3 lineup and the 9-7X sport utility.
The redesigned 2010 Saab 9-5 features a completely new look, taking cues from the Aero X concept car. Available with an array of high-tech features, including adaptive lighting, adaptive cruise control, driver-selectable adaptive chassis control with real-time damping, and Saab's XWD (cross-wheel-drive) technology, the redesigned 9-5 sedan will also offer an array of turbocharged engines. Available in Linear, Vector and Aero models, the new 9-5 sedan will be built at the company's headquarters in Trollh_ttan, Sweden, and will be available later in the 2010 model year.
For More Information:

Next
Page 1 of 3