2010 Rolls-Royce Ghost Preview
1/1/2010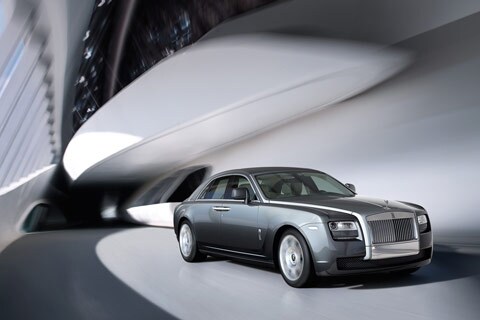 Critical Knowledge:
All-new model for 2010
Styled after the "200EX" concept
Four-door sedan with rear "coach doors"
Aluminum hood and windshield surround
Steel monocoque body for strength
Standard 6.6-liter, twin-turbo V-12 powerplant
Standard four-corner air suspension system
Standard Advanced Crash and Safety Management (ACSM) system
Bespoke department for customization
Introduction
Rolls-Royce
, the famed British automaker of luxurious hand-built automobiles, was founded at the turn of the 20th century by Charles Rolls and Henry Royce. The company's first all-new design, called the "40/50 h.p.," arrived in 1906. It would later be renamed the "Silver Ghost" and sell more than 6,000 units. The name has always held significant traditional and historical value to Rolls-Royce as the early reputation of the automaker was built on that car.
In April of 2009, Rolls-Royce revived the "Ghost" nameplate with an all-new model, based on its "200EX" concept previewed earlier in the year. The luxurious 4-door sedan is small for a Rolls-Royce, but still large compared to every other full-size luxury sedan on the market today. Now under control of parent company
BMW
, the new Rolls-Royce Ghost shares 20 percent of its parts, including the basic architecture of the 12-cylinder engine, with the German automaker. The new model will be built at Goodwood, in the United Kingdom, sharing leather, wood and paint workshops with the
Rolls-Royce Phantom
.
For More Information:
Next
Page 1 of 4