2012 Mercedes-Benz C-Class Preview
1/1/2012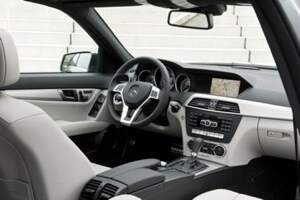 Overview
As a luxury brand, all Mercedes-Benz C-Class models are fairly well-equipped, even in base trim. Standard features include a full complement of power-operated convenience features, including power windows, power locks, cruise control, and dual-zone climate control. As mentioned, Mercedes-Benz sells the C-Class as two distinct models.
Sport models are differentiated by a front grille with a large three-pointed star (the Mercedes-Benz logo) integrated directly into the fascia. The interior of the Sport model has heavily- bolstered seats and special trim. Its suspension has been tuned for spirited driving, and as such, it delivers a firmer ride.
Luxury models, on the other hand, feature a traditional chrome grille with the Mercedes three-pointed star ornament mounted at the front of the hood. Compared to the Sport model, the interior of the Luxury model is designed with comfort as a primary objective. As such, the suspension and underpinnings are tuned with ride comfort in mind.
Powerplants
New for 2012 are the C250 models, fitted with an all-new 4-cylinder engine. The 1.8-liter powerplant features a turbocharger to develop 201 horsepower and 229 lb.-ft. of torque. All C250 models are rear-wheel drive and are expected to have a 7-speed automatic transmission as standard equipment.
The C300 4MATIC models feature a 3.0-liter V-6 engine rated at 228 horsepower and 221 lb.-ft. of torque. It is mated to a standard 7-speed automatic transmission. When compared to the new entry-level model, the C300 4MATIC is the only C-Class offered with permanent all-wheel drive.
All C350 models are equipped with a 3.5-liter V-6 engine under the hood. For the 2012 model, power has been bumped to 302 horsepower and 258 lb.-ft. of torque, thanks to direct injection. A 7-speed automatic transmission and rear-wheel drive are standard.
The range-topping model is the C63 AMG. The performance-tuned model is equipped with a 6.2-liter V-8 engine rated at 450 horsepower and 443 lb.-ft. of torque. For manual control of the standard 7-speed automatic transmission, there are steering-wheel-mounted paddle shifters. According to the automaker, the C63 AMG will sprint to 60 mph in less than 5 seconds. Those seeking even more power will want to order the "P31 AMG Development package," as it adds new lightweight forged pistons, forged connecting rods, forged crankshaft, and modified engine management. The end result is 481 horsepower, according to Mercedes.
Previous
Next
Page 2 of 3