2012 Mercedes-Benz C-Class Preview
1/1/2012
Mercedes to Offer 4-Cylinder Engine Option on 2012 C-Class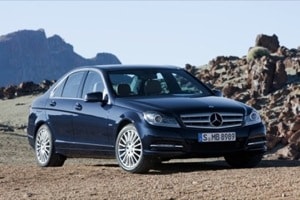 Highlights
Refreshed for the 2012 model year
New front and rear fascias
New headlight and tail light designs
New turbocharged 4-cylinder engine
New technology including Attention Assist and Parktronic
New AMG Development package
Introduction
The Mercedes-Benz C-Class is the automaker's entry-level sedan. First introduced in 1993 as a replacement for the discontinued 190 range, the C-Class is designed to compete directly against its European rivals, the BMW 3 Series and Audi's A4 range. Over the past two decades, the C-Class has been offered in a multitude of configurations including 4-cylinder, 6-cylinder, and high-performance 8-cylinder models. Body styles have ranged from 3-door hatchbacks and 4-door sedans, to 5-door station wagons. While the European market is offered the C-Class in various models with a choice between gasoline and diesel engines, all North American models are 4-door sedans that are powered by engines running on unleaded fuel.
The current-generation C-Class debuted in 2008. Unlike its predecessors, the new model arrived in two distinct configurations: Luxury and Sport. Now in its fifth year, Mercedes-Benz has updated its C-Class for 2012 with a minor facelift, both inside and out, and a new 4-cylinder engine option. All Sport models are now fitted with standard LED running lights (mimicking the upmarket E-Class and S-Class), while C-Class models without the optional bi-Xenon headlight package receive black headlight inlays designed to alter their cosmetic appearance. Lastly, there is a new headlight control switch and relocated ESP (electronic stability control) switchgear within the cabin.
New 17-inch, 5-spoke alloy wheels are fitted to the C350 Sport models, and the range-topping C63 AMG is offered with an optional "P31" AMG Development package (it adds 30 horsepower, bumping the engine's output to 481 horsepower).
The 2012 Mercedes-Benz C-Class will arrive in showrooms over the summer.
For More Information:
Next
Page 1 of 3