2012 Ford Focus Preview
1/1/2012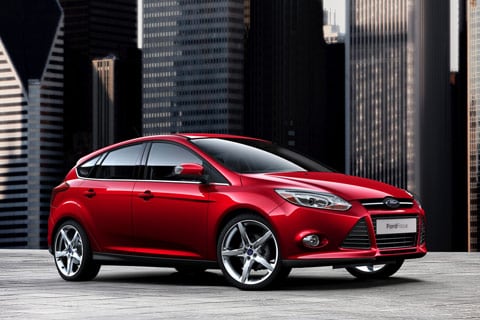 Critical Knowledge:
Offered in 5-door hatchback and 4-door sedan models
More powerful and more fuel efficient than previous Focus
Six-speed dual-clutch transmission
European driving dynamics
Available MyFord technology
Available Ford Sync technology with Bluetooth
Available navigation system
Available keyless locking and ignition
Available rearview camera system
Available semi-automatic parallel parking system
On sale in early 2011
Electric version on sale in 2012
Built in Wayne, Michigan
Introduction
Ford
seems to finally be serious about its global product strategy. Past attempts at selling the same model everywhere in the world have not proven spectacularly successful, with the exception of the
first-generation Ford Focus
that went on sale around the turn of the Y2K century. The American version of that car looked and drove pretty much like the European version, and it was available in four body styles:
3-door hatchback
, 5-door hatchback,
sedan
, and
station wagon
. But when a redesigned second-gen Focus arrived across the Atlantic for 2005, we got a
refreshed version of the same old car
instead. In fact,
today's Focus sedan
and
coupe
are actually heavily massaged variants of that original Focus, even if they look nothing like it. And if you're one of the 10 people who've ever seen the Jay Leno Electric Car Challenge, you know what the Focus that Europeans have been enjoying since 2005 looks like.
At the 2010 North American International Auto Show in Detroit, Ford unveiled its new, third-generation Focus to world. This new C-segment platform is expected to provide the basis for 10 different models and 2 million annual vehicle sales once each new car is rolled out, and in terms of the Focus, parts commonality will be no less than 80 percent between global markets, Ford says.
North American buyers will be able to select between a Focus 5-door hatchback and a Focus sedan when the car goes on sale early in 2011. Arriving at about the same time is the
2012 Ford Focus C-MAX
, a mini-minivan that belatedly replaces the old
Focus wagon
. Americans should also see new
Ford Escape
/
Mercury Mariner
twins springing from this platform, and rumors circulate about a
Mercury
version of the Focus sedan. As for the new 2012 Focus, Ford's Europe-based development team emphasized design, high quality materials and construction, efficient powertrains, and fun-to-drive dynamics when developing the car.
For More Information:

Next
Page 1 of 4