2011 Lamborghini Gallardo LP 570-4 Superleggera Preview
1/1/2011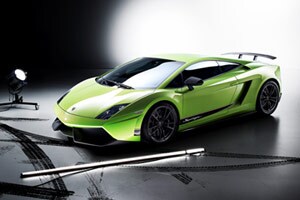 Highlights:
New model for 2011
New cosmetic enhancements
5.2-liter 10-cylinder engine
Standard 6-speed, single-clutch automatic gearbox
Standard iron 8-piston brake calipers (front) with 4-piston (rear)
19-inch aluminum alloy wheels with 235/35ZR19 tires (front) and 295/30ZR19 tires (rear)
Lamborghini says no other model in its lineup is as close to a race car
Fast Facts:
Extensive use of carbon fiber and light alloys to reduce weight
Use of titanium wheel bolts to save weight
530 horsepower and 399 lb.-ft. of torque
Claimed 0-60 mph in 3.4 seconds and top speed of 202 mph
Ceramic brake discs with 6-piston calipers optional
Introduction
Lamborghini
was founded in 1962 by businessman Ferruccio Lamborghini out of his frustration with finding the perfect sports car-so he decided to create his own. The first car, a Lamborghini 350GTV, arrived in 1963 and was followed by the Miura in 1965.
The
Lamborghini Gallardo
debuted in 2003 as the smaller, and less powerful, sibling to the
Lamborghini Murci_lago
. The all-new Gallardo featured a 10-cylinder engine, which was mid-mounted in the chassis, and its power was sent through a full-time all-wheel-drive system. Not intent on leaving a popular design alone (since its introduction, more than 7,100 Gallardo models have been sold, making it the best-selling Lamborghini of all time, says the automaker), Lamborghini launched the
convertible Spyder
in 2006, and the lightweight Superleggera in 2007. The 2008 model year revealed the LP 560-4, an updated Gallardo with a new and more powerful engine and a refreshed exterior. Further tuning occurred in 2009, when the Italian automaker again bumped the horsepower, stiffened the chassis, reduced weight, revised the exterior styling, and improved the suspension with various modifications.
The 2011 model year welcomes yet another Lamborghini Gallardo derivative-the LP 570-4 Superleggera. The engineered successor to the previous Superleggera ("superlight" in Italian) is 154 pounds lighter that the standard LP 560-4. Not only does the new Gallardo flagship offer improved performance, but it features unique body work and badging to distinguish it from the standard models.
For More Information:
Next
Page 1 of 3