2012 Volkswagen Passat Preview
1/1/2012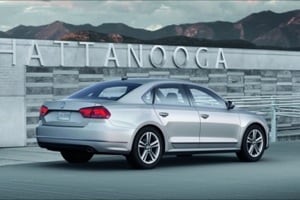 Design
The all-new 2012 Volkswagen Passat has taken on a slightly more aggressive appearance, much like the Golf/Jetta did last year. According to Volkswagen, "It is a completely new look, styled by Klaus Bischoff (head of design, Volkswagen) and Walter de Silva (head of design, Volkswagen Group), that was designed to establish a fresh direction with clean surfaces and an elegant yet imposing stance."
The front of the Passat features a new chrome grille with headlights (and new LED running lights) set deep within their buckets. A sharp character line runs down each side of the sedan, terminating at the rear tail light (again, with new LED lighting). Every panel on the body, apart from the roof, is new, according to Volkswagen. While its look is refreshed, dimensionally the 2012 Passat is as wide and as tall as its predecessor-although it is slightly longer than the model it replaces.
The interior of the seventh-generation Passat will be familiar to current Volkswagen owners. The new design continues with redesigned seats that can be specified to both heat and cool their occupants. They are also offered with a massage function for the driver and front-seat passenger. The dashboard has been redesigned with new dials, trim finishes and an analog clock (there are also chrome inserts and the option of ambience lighting similar to that found in the since-discontinued flagship Phaeton).
Previous
Next
Page 2 of 4