2010 Customer Service Index Study
1/1/2010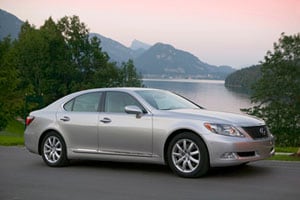 Lexus takes the top spot among luxury brands
Lexus
stands atop the podium among luxury brands in the 2010 CSI rankings-earning the award for the second consecutive year-with an index score of 837. According to the study, the Japanese luxury automaker performs very well in four of the five measured categories. Ranked No. 2 among luxury brands is
Cadillac
(827), showing a huge improvement from last year. Cadillac is followed in the luxury brand rankings by
Jaguar
(822). The British automaker ranked highest overall in 2008, held the No.-2 ranking in 2009, and has dropped to a No. 3 ranking for 2010. Other top luxury brands include
Acura
(817) and
BMW
(816). The luxury brand industry average is 813.
Hummer tops among mass market brands
Hummer
earns the coveted top spot among mass market brands with a score of 815, thanks to its service quality and service facility scores. The brand, known for its off-road-capable SUVs, has fared very well in recent CSI studies. In 2009, Hummer ranked No. 5 overall-following four luxury brands-improving its score significantly from 2008, when it was decidedly mid-pack. Hot on the heels of Hummer is
Saturn
(808). Ironically, Saturn has shown significant improvement in CSI over the past few years, but the brand has been discontinued by General Motors just as it climbs to the podium.
Buick
(805) rounds out the top three among mass market brands. It is interesting to note that of the top seven brands in the mass market segment, six of them are from General Motors. In comparison, Ford brands hold the No. 7 and No. 8 rank positions, while no Chrysler brands perform at or above the mass market industry average of 758.
About the study
The 2010 CSI Study is based on responses from more than 114,200 owners and lessees of 2005 to 2009 model-year vehicles. The study was fielded between October and December 2009.
For More Information:
Previous
Page 3 of 3