2010 Customer Service Index Study
1/1/2010
Dealerships focus on customer retention
The so-called "honeymoon" period-the first three years of new-vehicle ownership-is when nearly all cars and trucks are covered by a full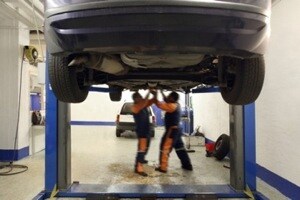 factory warranty. While repair visits are an inconvenience to owners, financial expenditures outside of routine maintenance are very rare. This is the optimal time for dealer service departments to build relationships with their customers, with the primary goal of retaining them after the honeymoon is over.
To improve service, many repair departments have made it their objective to get customers in the same day that they call-and complete the repair that same afternoon. In addition, many luxury automakers keep a fleet of complimentary service loaner vehicles on hand-or have a contract with a local rental car company-to improve convenience, something very few independent shops can match. Often chided for being expensive when it comes to routine service such as oil changes, dealer service outlets have begun offering rock-bottom pricing with promises to get customers back on the road within a specific amount of time. As an added benefit to the service department, customers visiting for oil changes are often sold other maintenance services, adding to dealer profits.
Overall satisfaction with dealer service on the rise
Overall, satisfaction with dealer service has increased from last year. According to the CSI study, customers have been very happy with driving in and out of dealer facilities, parking convenience, the thoroughness of the work performed, the speed of the service, and the flexibility of the dealer to accommodate schedules and how well the service department explained the job. Osborn points out a possible explanation: "These improvements may be due to not only an increased focus on customer satisfaction from dealers, but also are possibly a result of lower volumes of service traffic that dealers are now experiencing." This may be partially true, but improving scores equate to more consumer confidence with the service department. Happy customers are loyal customers-exactly what the service department is seeking.
Previous
Next
Page 2 of 3