2010 Customer Service Index Study
1/1/2010
These days, the service department-not the new car showroom-is the most profitable operation at most automotive dealerships. To an industry awash with negative reports about dwindling new car sales, that may sound like good news-but it is not. Unfortunately, those depressed auto sales are affecting the service department in a big way, as dealer service traffic volumes of late-model vehicles are predicted to fall by approximately 20 percent over the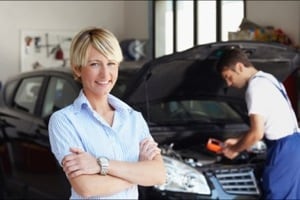 next five years, resulting in a 25-percent decrease in revenue. As fewer new customers fill their service departments, retail automotive dealers must adapt in this increasingly difficult environment and try new methods to keep customers coming back.
"With service customer retention becoming more crucial than ever during the next few years, dealerships must focus on not only providing superior levels of customer service, but also on enhancing convenience for vehicle owners and providing pricing that is more competitive with non-dealer facilities, " says Jon Osborn, research director at J.D. Power and Associates.
Examining that ever-important satisfaction vehicle owners have with their dealer service department when they visit for routine maintenance or service work is the focus of the
J.D. Power and Associates 2010 Customer Service Index (CSI) Study.SM
In conducting the study, owners were asked about their first three years of ownership-the period when nearly all vehicles are still under full factory warranty. Drilling down at the specifics, the CSI study looks at five different measures to offer an accurate barometer of overall customer satisfaction with dealer service (listed in order of importance): service quality; service initiation; service advisor; service facility; and vehicle pick-up. All scores are tabulated, and then reported on a 1,000-point scale (a higher score is better).
The automotive service outlook appears challenging
According to the study, dwindling retail automotive sales have a direct long-term effect on the service department. Someone who buys a car today will likely have it serviced for the next three years at their local dealer. Nonetheless, when the warranty runs out at the end of three years that same customer may choose an independent shop for service and the dealership permanently loses a customer. Retailers must continuously feed a new supply of customers to the service department or the result will be a lack of business down the road. In a similar fashion, a winery harvests grapes each autumn to ensure strong wine production in future years. With that in mind, the recent drop in new car sales is expected to affect the service department for several years, reaching a low point in 2013, according to the study.
Next
Page 1 of 3