A Closer Look at Alternative-fuel Vehicles
2/24/2012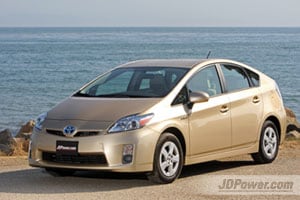 The increase in popularity of
hybrid-electric vehicles (HEVs)
such as the gasoline-electric
Toyota Prius
,
Nissan Altima
Hybrid and
Ford Fusion
Hybrid is attributed to consumers seeking more fuel-efficient and environmentally friendly transportation. That same demand has pushed automotive engineers to explore other types of fuels-something besides petroleum-based gasoline and diesel-to burn during the internal combustion process (whereby fuel is exploded inside one or more cylinders). These so-called "alternative fuels" include hydrogen, compressed natural gas, liquefied natural gas, liquid petroleum gas, and ethanol. Each burns much cleaner than gasoline or diesel, but none are yet ready to replace traditional fuels.
Hydrogen-powered Vehicles
Hydrogen-powered vehicles operate by burning hydrogen in a traditional combustion powerplant (e.g.,
BMW
Hydrogen 7) or by utilizing hydrogen in a fuel cell to generate electricity (e.g.,
Honda FCX Clarity
). At first glance, hydrogen seems to be a perfect fit for both consumers and the environment, as the only "waste" out the exhaust pipe is pollutant-free water vapor. Unfortunately, hydrogen is not naturally occurring on earth-it has to be manufactured in special facilities that are currently limited in production.
In addition, vehicles must carry large pressurized tanks of hydrogen to equal the "cruising range" of today's gasoline-powered vehicles as hydrogen has much less "energy per unit of volume" than gasoline. Furthermore, widespread distribution for hydrogen doesn't exist-many consumers would run out of fuel before they could find a filling station. For these reasons, hydrogen remains much more of a future concept than a reality.
Next
Page 1 of 3