The Science Inside a Gasoline-electric Hybrid Vehicle
2/24/2012
The Transmission's Role in a Gas-electric Hybrid
The transmission in a gasoline-electric hybrid is designed to be very efficient. For this reason, most are fitted with automatic transmissions (one exception is the
Honda CR-Z
, which offers a 6-speed manual transmission). These are either conventionally geared automatics (with torque converters) or continuously variable transmissions (CVTs) that are designed to operate with the engine at peak efficiency.
The Role of the Battery Pack in a Gas-electric Hybrid
The battery pack stores energy for the electric motor, just like a gasoline tank stores fuel for the combustion engine (interestingly enough, it takes 1,000 pounds of batteries to store as much energy as 7 pounds of gasoline). Unlike the familiar flashlight battery, the battery pack on a hybrid gasoline-electric vehicle is comprised of hundreds of small batteries working together to make a large amount of energy, as batteries are much more effective when they are arranged in this manner.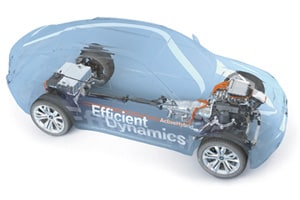 Putting it all Together
The combustion engine, electric motor, transmission, and battery pack all work together to propel the hybrid gasoline-electric vehicle down the road. This is where the technology gets interesting. While a conventional automobile runs its internal combustion engine all the time, the hybrid will alternate between combustion engine and electric motor (or run both simultaneously) based on the vehicle's load and driver requirements. Sophisticated computers manage the engine and motor activity, making it appear nearly seamless to the driver.Hybrid gasoline-electric vehicle technology has proven to be very popular with consumers. With the exception of a few purpose-built models (Toyota Prius and Honda Insight) with unique styling that identifies them as hybrids, in many cases the styling of gasoline-electric hybrids is nearly spot-on with the conventional models-but efficiency is greatly improved. Making this technology even more attractive to buyers is the fact that all hybrid vehicles don't all have to be small compact cars. In fact, they can range from sporty (BMW X6 Hybrid) and luxurious (BMW Active 7 Hybrid) to utilitarian (Chevrolet Tahoe Hybrid) or workhorses (Dodge Ram Hybrid pickup).


For More Information:
Previous
Page 2 of 2