The Science Inside a Gasoline-electric Hybrid Vehicle
2/24/2012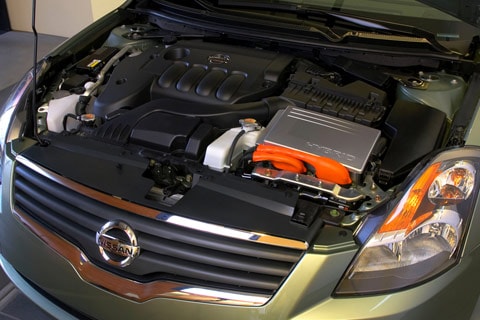 Consumers seeking the most fuel-efficient vehicles in the showroom today need look no further than a gasoline-electric hybrid vehicle. These tech-filled cars and trucks deliver unrivaled fuel economy in the city, and impressive highway mileage. As an added benefit, their physical appearance is nearly identical to a conventional vehicle, and hybrid gasoline-electric technology has been engineered to deliver a near-seamless consumer interface, meaning there is very little compromise to styling or to the driving experience.

A hybrid vehicle is defined as having more than one power source (e.g., a gasoline engine and an electric motor for propulsion; or fuel cells for energy storage and an electric motor for propulsion). In the case of a hybrid gasoline-electric vehicle, the primary source of power is a gasoline engine (commonly referred to as a "combustion engine," as fuel is exploded inside one or more cylinders) supplemented by a powerful electric motor.While their physical appearance and hardware often mirrors their traditional full-combustion counterparts (e.g., the Nissan Altima Hybrid, Toyota Camry Hybrid and Ford Fusion Hybrids are nearly identical to their conventional siblings), there is a great deal of technology-and many more mechanical components-hidden in the powertrain beneath the painted sheetmetal.

A gasoline-electric hybrid's powertrain is easiest to understand when it is broken into four major components: combustion engine, electric motor, transmission, and battery pack.

The Combustion Engine's Role in a Gas-electric Hybrid
The combustion engine in a gasoline-electric hybrid is tasked with accelerating the vehicle and charging the battery pack. As hybrid cars are designed to maximize fuel efficiency, most will have efficient, small-displacement, 4-cylinder engines under the hood. The combustion engine is designed with an automatic "start-stop" function, whereby the engine shuts down when the vehicle is stopped for more than a few seconds to conserve fuel.

The Role of the Electric Motor in a Gas-electric Hybrid
The electric motor serves dual roles in a gasoline-electric hybrid. First, it supplies supplemental power to assist the combustion engine (think of it as having a second hand to help push the vehicle forward). Second, it acts as a generator to recharge the battery pack during deceleration-called "regenerative braking." Just like the start-stop function, regenerative braking is completely automatic.


Next
Page 1 of 2