A Closer Look-Four Compact Crossover Utility Vehicles
2/24/2012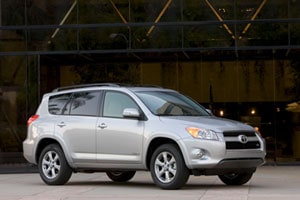 Features and options
All four CUV models are similarly equipped with standard features. TheFord Escape, Toyota RAV4, Honda CR-V and Chevrolet Equinox are allfitted with standard power windows, keyless entry, power door locks,power steering, cruise control, steering wheel-mounted controls, andair conditioning. Second-row folding seats, a rear window defogger, andan AM/FM stereo with compact disc player are also standard on allmodels.
Mechanically speaking, each of the compact sedans is fitted withindependent front suspension and independent (or semi-independent) rearsuspension and front disc brakes. The
Chevrolet
,
Honda
and
Toyota
alsohave rear disc brakes, and the
Ford
has reardrum brakes.
Powerplant and fuel economy
These compact crossovers each feature standard, fuel-efficient4-cylinder engines (the Toyota RAV4 is also available with a 6-cylinderengine, while the Ford Escape is also offered in a hybrid model).
The most powerful of these CUVs is the Chevrolet Equinox, with a2.4-liter 4-cylinder engine rated at 182 horsepower and 172 lb.-ft. oftorque. The powerplant is mated to a 6-speed automatic transmission.The Toyota RAV4 features a slightly larger 2.5-liter engine rated at179 horsepower and 172 lb.-ft. of torque and connected to a 4-speedautomatic transmission. Also with a 2.5-liter engine is the FordEscape. Mated to a 6-speed automatic, it is rated at 171 horsepower and171 lb.-ft. of torque.
The Honda CR-V has a 2.4-liter engine rated at 166 horsepower and 161lb.-ft. of torque. The standard transmission on the Honda is a 5-speedautomatic. All four models are front-wheel drive in their standardconfigurations, with all-wheel drive (for inclement weather, not heavyoff-road use) offered as an option.
Each of these four competitors earns better than 20 mpg in the city and27 mpg on the highway, thanks to their 4-cylinder powerplants.Comparing fuel economy, the most efficient is the Chevrolet Equinox at22 mpg city and 32 mpg highway. It is followed by the Toyota RAV4 at 22mpg city and 28 mpg highway, and the Ford Escape at 20 mpg city and 28mpg highway. The Honda CR-V is rated at 20 mpg city and 27 mpg highway.
All four of these compact crossover models are capable of towing alight (1,500-pound) trailer.
Previous
Next
Page 2 of 4