A Closer Look-Four Midsize Vans
2/24/2012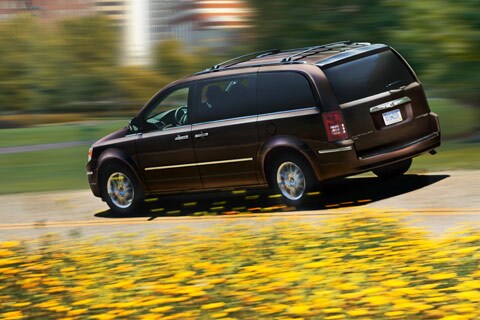 Safety and crash testing
Like passenger sedans, minivans are held to high safety standards (larger truck-based passenger vans are not). Each of the models in this segment is built on a unibody platform that is better able to absorb crash forces. In addition, each is fitted with pre-tensioning front seat belts, dual front air bags, curtain side air bags, and a tire-pressure-monitoring system as standard equipment (a passenger air bag cutoff switch is also standard). Electronic stability control and anti-lock brakes are also standard on each model.
IIHS assessments
In tests conducted by the Insurance Institute for Highway Safety (IIHS), the Toyota Sienna has been named a "Top Safety Pick" (this recognition highlights the vehicles that earn the highest rating of good for front, side, rollover, and rear crash protection, and that have electronic stability control). While the Honda Odyssey, Dodge Grand Caravan and the Chrysler Town & Country are rated "Good" in both frontal offset and side-impact testing, none of these models have yet been tested for roof strength, so they are all ineligible for IIHS "Top Safety Pick" awards.
NHTSA assessments
The National Highway Traffic Safety Administration (NHTSA) gave the Dodge Grand Caravan and Honda Odyssey 5-star ratings in Front Driver/Front Passenger testing and 5-star ratings in Side Driver or Side Rear Passenger testing. Each also earned 4 stars in Rollover testing (front-wheel-drive models tested). The Toyota Sienna earned 4-star Front Driver, 5-star Front Passenger, 5-star Side Driver/Side Rear Passenger ratings and 4-star Rollover ratings (all-wheel-drive models tested). The Chrysler Town & Country has not yet been tested by the NHTSA.
Previous
Next
Page 3 of 4