Understanding Run-flat Tires
2/24/2012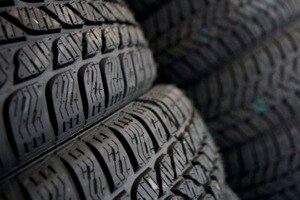 One of the first practical applications of run-flat tires appeared in the late 1980s on Porsche's 959 sports car. The limited-edition exotic could top 200 mph under the right conditions, such as a test track, so the automaker requested a tire that wouldn't disintegrate if it lost air pressure at high speeds. The tire worked as engineered, but it required a special wheel design to keep the tire in place when deflated, thus preventing it from being used outside specialized applications.
The engineering marvel that is today's modern vehicle tires is credited back to 1846, when a European inventor wrapped rubberized canvas around a wheel and filled it with air. It took another 50 years for tire technology-including the crucial valve stems-to be perfected. Interestingly enough, for the next 50 years, the basic design of a tire-a flexible sealed vessel to hold pressurized air-has changed very little.
A traditional pneumatic (air-filled) tire offers countless benefits. These include a comfortable ride, road grip under a variety of driving conditions, and long tread life. However, the advantages are quickly forgotten when the tread or sidewall becomes punctured and loses air-a flat tire. Engineers have been trying to perfect a tire design that can still be "driven on" after suffering a complete loss of air pressure for decades (some of the earliest were invented for disabled drivers). The name of this new tire would eventually be called a "run-flat" design (they are also called "zero-pressure" or "extended mobility" tires).
Less than 10 years ago, tire manufacturers began to introduce the next generation of run-flat tires that could be fitted to standard vehicle wheels without modification. The only stipulation was that the vehicle had to be fitted with a tire-pressure-monitoring (TPM) system so the driver could tell when the tire was flat.
Unique by construction, a run-flat tire looks much like a conventional tire from the outside. On the inside, however, it is very different. The air in a conventional (pneumatic) tire is designed to hold the shape of the tire under various loads. Without the air, the tire collapses on its sidewalls and becomes impossible to use safely. A run-flat tire overcomes these obstacles by having very strong reinforced sidewalls. When the run-flat tire loses pressure, the sidewalls are substantial enough to hold the tire's shape. The vehicle does not drastically "drop" onto a deflated run-flat tire, so directional control is retained. So subtle may be the loss of pressure that to the naked eye the tire looks normal. As a result, the aforementioned TPM systems are required on all new light motor vehicles-with or without run-flat tires-sold after September 1, 2007.
Next
Page 1 of 2