A Closer Look-Six Midsize Family Sedans
2/24/2012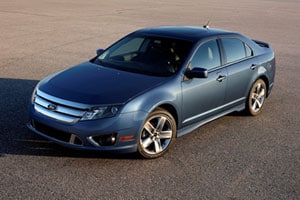 The high cost of fuel today has many families rethinking their transportation strategies. While the average sport utility vehicle offers towing capacity, off-road prowess and highly configurable cabins, most households with children simply may not need all of those capabilities. In fact, some families are finding that a variety of fuel-efficient, front-wheel-drive, midsize 4-door sedans-the heart of the U.S. car market-fit the bill quite nicely.
The midsize sedan segment is comprised of nearly 20 models, including the
Buick LaCrosse
,
Dodge Avenger
,
Chrysler Sebring
,
Subaru Legacy
,
Kia Optima
,
Mercury Milan
,
Mazda 6
,
Volkswagen Passat
,
Mitsubishi Galant
,
Suzuki Kizashi
,
Honda FCX
,
Suzuki Verona
, and the
Saturn Aura
and
Pontiac G6
(2009 was the final model year for the Aura and G6).
It also includes six models (the focus of this article) that sold in excess of 10,000 units in April 2010: the
Toyota Camry
,
Honda Accord
,
Nissan Altima
,
Ford Fusion
,
Chevrolet Malibu
and the
Hyundai Sonata
. These six models accounted for 126,015 of the 156,140 total units sold in April 2010 for the entire segment.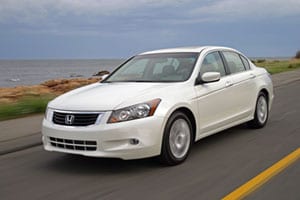 Dimensions and interior room
The six sedans are all relatively the same size. The longest of the pack is the Honda Accord (194.1 inches), followed by the Chevrolet Malibu (191.8). The Nissan Altima (190.7 inches) and the Ford Fusion (190.6) are nearly identical in length. The Hyundai Sonata (189.8 inches) and Toyota Camry (189.2) are the shortest.
A longer wheelbase-the distance between the front and rear wheels-is often associated with improved ride quality. The Chevrolet Malibu, at 112.3 inches, has the longest wheelbase, with the Honda Accord (110.2) and Hyundai Sonata (110.0) only a couple inches shorter. The Toyota Camry and Nissan Altima have the same (109.3-inch) wheelbase. The Ford Fusion (107.4 inches) has the shortest wheelbase of the group.
Overall vehicle length is another indicator of overall passenger space available inside the vehicle. The Honda Accord is the largest of these family sedans, and it does deliver the most interior passenger volume (106 cubic feet). It is followed by the Hyundai Sonata (103.8 cubic feet), and the Toyota Camry, Nissan Altima and Ford Fusion (all three tied at 101 cubic feet). The second-longest vehicle, the Chevrolet Malibu, delivers the least amount of passenger space (95 cubic feet). On the other hand, the trunk of the Sonata (16.4 cubic feet), Malibu and Fusion are the largest (16 cubic feet) followed by the Camry and Altima (15 cubic feet). The Accord (14 cubic feet) is the smallest.
When it comes to making U-turns, the Hyundai Sonata (35.8 feet) has the tightest turning radius. The Toyota Camry and Nissan Altima (36.1 feet) follow closely, followed by the Ford Fusion (37.5), Honda Accord (37.7), and the Chevrolet Malibu (40.4).
Next
Page 1 of 3