How Do I Buy a New Car?
2/24/2012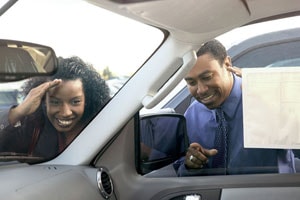 Most consumers dread price negotiations at the dealership because they feel that they are not in control. While it is true that automotive retailers train their salespeople to negotiate, they don't hold all the cards at the table. After all, you can choose to buy today, buy tomorrow, or buy somewhere else. Consumers with realistic expectations who are armed with some basic information-and the willingness to walkaway from the deal-can always control the negotiation.
Before heading to the dealer, research basic vehicle pricing on the cars you are interested in. Knowing the dealer's invoice price for the vehicle and any desired options is critical. Gather this information-from several different sources, understanding that you're looking for a ballpark value and not an exact value down to the penny. It's also important to know what incentives or rebates might be available to lower the price of the car below the invoice price. Check local advertising to see if that particular model is advertised at a discount, or with a factory rebate. Finally, some automotive Web sites publish what they claim is the realistic target selling price of a new vehicle: Check Edmunds.com or KBB.com for these values. Write all of the numbers down, and then calculate a dollar amount that you are willing to pay, including a fair profit to the dealership. And remember, you must pay tax on any incentives or rebates that are applied to the new vehicle.
Next, appraise and assign a fair value to your trade-in. During this process, take into consideration the vehicle's actual condition,including remaining tire tread, whether you've kept service receipts and a record of maintenance, the luster of the paint, and the condition of the interior. Gather trade-in values from several well-known sources to generate a ballpark value, and expect the dealer to offer a price that is approximately 10 percent lower. The new-car dealer will only keep the best trade-in vehicles for sale on the used car lot; the rest of the cars are wholesaled at auctions, and prices can vary widely depending on market conditions, seasonality, and other factors. Also,keep in mind that recent market volatility has caused dramatic swings in vehicle values that are not always reflected on automotive Web sites.
Finally, before you call the dealer for an appointment, prepare your finances. If a loan is required to purchase the vehicle, it is always best to arrange financing in advance with your bank, credit union, or other trusted financial institution. This way, you know what your credit score is, you know what the best rate you've qualified for is,and you've removed the possibility that an unscrupulous dealer will increase your loan term or pad your payments for increased profitability. You can always ask the dealer to beat your best loan. If the dealer can, you win. If the dealer can't, you still win because games will not be played during the financing process.
Next
Page 1 of 2