How Much Profit Should a Dealer Make?
2/24/2012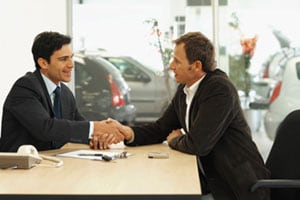 Now that you know about the dealer holdback and the sales spiffs, forget about them. This is the dealer's money, and you aren't getting any of it. Simply knowing that these payments to the dealer exist, however, can give you leverage during negotiations.
During the negotiation, explain that you are interested in giving the dealer profit, but you would like to stretch your discount. This empathetic statement makes it obvious that you understand the basic principle behind the negotiation-something few other customers grasp.By knowing the ballpark invoice figure and whether incentive or rebate programs are available on the new car, by understanding that vehicles in high demand are sold for a premium (sometimes over the sticker price), and by arranging your financing ahead of time, you know what a fair price will be for the vehicle.
Communicating this knowledge to the dealer, and expressing a willingness to pay enough for the vehicle for the dealer to cover the costs of doing business and make some money on the sale, will set abetter tone for the negotiation and quickly bring both parties closer to that hard-to-obtain "best price." More likely than not, it will be in your favor.
More New Car Buying Tips:
Preparing your finances before buying a car
ShouldI trade my old car in or sell it privately?
Three values associated with used-vehicle pricing
Whois the best person to negotiate with at the dealership?
Previous
Page 2 of 2