New for 2009-Bentley
1/1/2009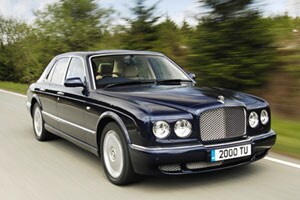 Critical Knowledge:
Brooklands is an all-new luxury coupe
Continental Flying Spur is a new 4-door version of the Continental GT Speed
Arnage and Azure receive new brake, wheel and audio options
2009 Bentley Arnage
The Bentley Arnage sedan receives several new options for 2009. They include carbon-ceramic brakes, 20-inch wheel designs, and a powerful 13-speaker, 1000-watt "Naim for Bentley" audio system. The automaker has also added a new dark wood veneer to the cabin.
Get more information on the 2009 Bentley Arnage
Other Bentley models:
Next
Page 1 of 5