Top-Rated 2012 Convertibles: Performance & Design
6/13/2013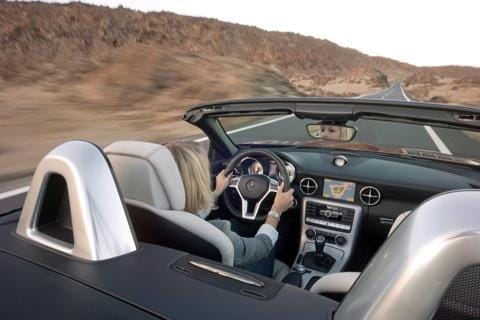 The annual
J.D. Power Automotive Performance, Execution and Layout Study
(APEAL) is designed to measure how satisfied consumers are with their new vehicles in terms of performance, design, comfort, interior layout, standard and optional features, and more. Thousands of people who bought new 2012 model-year vehicles and have owned them for at least 90 days respond to the survey, sharing their experiences and opinions of their new cars, trucks, SUVs, and vans.
Based on the findings of the
2012 APEAL Study
, and listed below in alphabetical order, are the convertible models that achieved the highest ratings for the 2012 model year.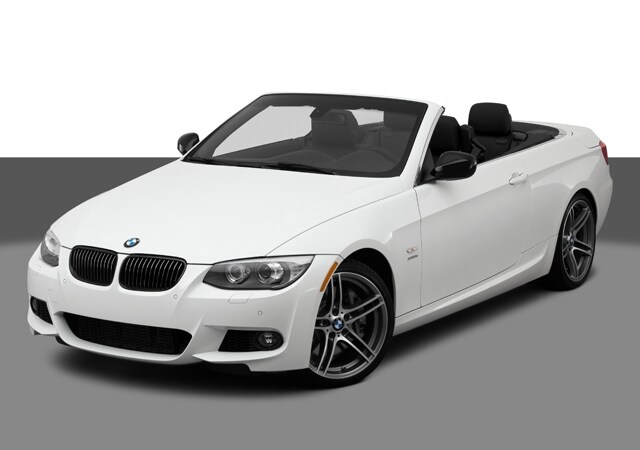 2012 BMW 3 Series
The 3 Series Convertible has a power-retractable hardtop roof. For 2012, the only change was that real-time traffic reporting is added to the optional navigation system.
The 2013 BMW 3 Series Coupe is offered in 328i, 335i, 335is (Coupe only), and M3 variants. All four versions are rear-wheel drive; the 328i and 335i are offered with xDrive all-wheel drive as an option. Engine power output ranges from 230 horsepower in the 328i to 414 horsepower in the M3. A manual gearbox is standard in all BMW 3 Series models, with an automatic transmission optional in the 328i and 335i. Automated manual transmissions are offered for the 335is and M3.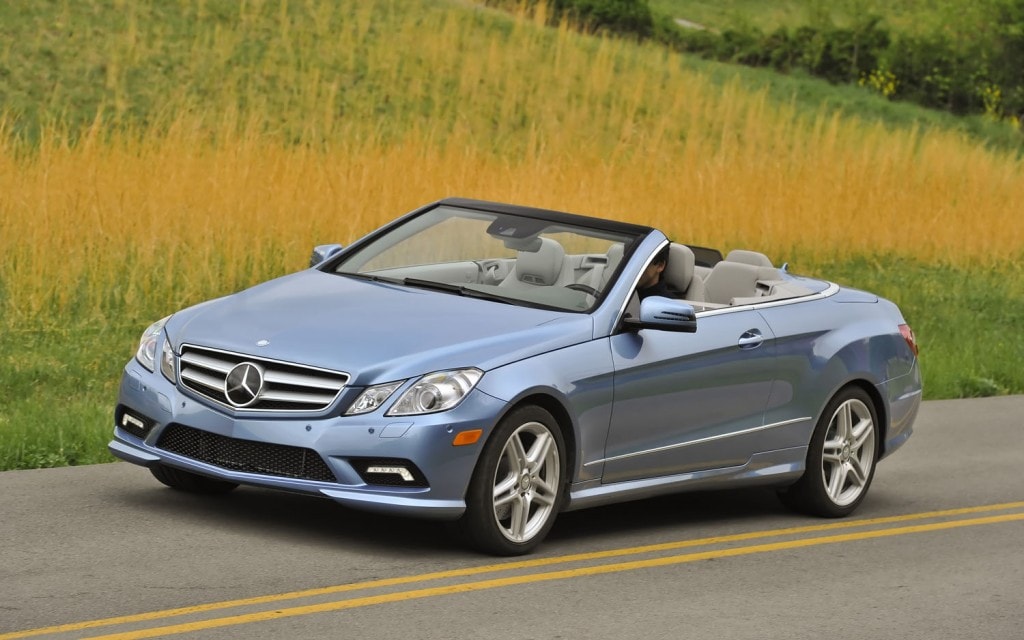 2012 Mercedes-Benz E-Class
For 2012, Mercedes replaced all three of the engines offered in the E-Class Cabriolet. The new V-6 engine in the E350, V-8 in the E550, and twin-turbocharged V-8 in the E63 AMG generate between 302 horsepower and 550 horsepower. A new 7-speed Touch Shift automatic transmission improves fuel economy for E350 and E550 models, while all variants receive a new steering wheel and color instrumentation displays. Active Blind Spot Assist and Active Lane Keeping Assist technology also debut for the E-Class Convertible.
Though well equipped in standard format, the E-Class Cabriolet models are offered with a number of extra-cost upgrades, including several sophisticated safety-related technologies. The convertible versions are also available with Air Scarf front-seat neck warmers and an Air Cap system designed to deflect airflow up and over the car's interior when the top is down.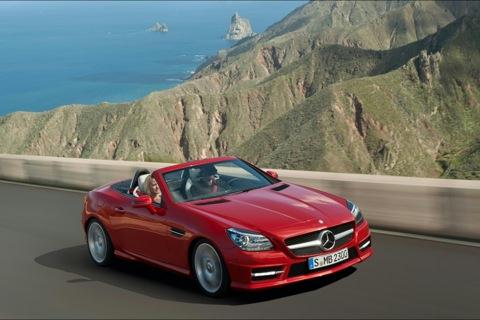 2012 Mercedes-Benz SLK-Class
Mercedes-Benz redesigned the SLK roadster for the 2012 model year, and the new version proved to be a hit with owners. Highlights from the list of changes include a new family of engines, panoramic retractable hardtop roof with available Magic Sky Control variable roof transparency, Attention Assist technology, head-protecting air bags mounted in the doors, LED front and rear lighting, Bluetooth audio streaming, bi-xenon headlights with Active Curve Illumination, Keyless Go locking and push-button ignition, Parktronic parking sensors, and an AirGuide wind-stop feature.
Three versions of the new 2012 SLK roadster are on sale: SLK250, SLK350, and the SLK55 AMG. The SLK250 is equipped with a turbocharged, 201-horsepower, 1.8-liter 4-cylinder engine, while the SLK350 has a 302-horsepower, 3.5-liter V-6 engine. A 6-speed manual gearbox is standard for the SLK250, and that model's optional 7-speed Touch Shift automatic is standard for the SLK350. The automatic includes paddle shifters and an Eco Mode for improved fuel economy.
The SLK55 AMG is a performance-oriented sports car, equipped with a 415-horsepower, 5.5-liter V-8 engine, AMG SpeedShift 7-speed automatic transmission, upgraded brakes, and handling enhancements. This model accelerates to 60 mph in 4.5 seconds and can achieve a top speed of 174 mph, according to the automaker.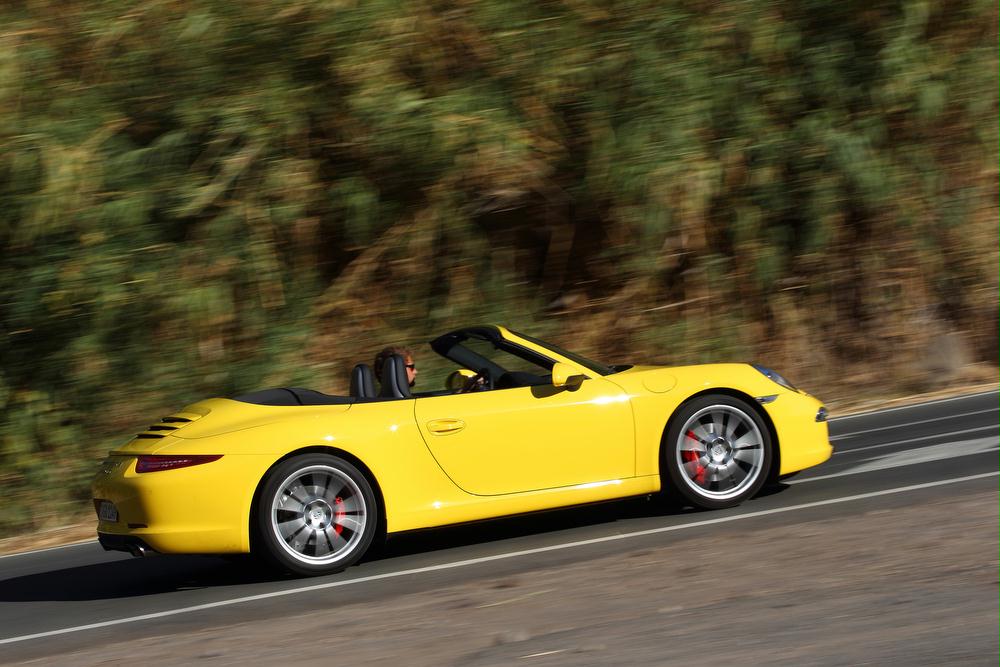 2012 Porsche 911 Carrera
Mounted in the rear, as is tradition, a direct-injection, 3.4-liter 6-cylinder "boxer" engine makes 350 horsepower in the standard 2012 Porsche 911 Carrera. The 911 Carrera S has a direct-injection, 3.6-liter 6-cylinder "boxer" engine good for 400 horsepower. Both engines include automatic start/stop and "sailing" technology that shuts the engine off when idling or coasting, and are available with the world's first 7-speed manual transmission.
The 911 Cabriolet's Z-folding top is constructed of magnesium and fabric, opens and closes in 13 seconds at speeds up to 31 mph, and includes a glass rear window. Rain channels are designed to prevent water from leaking into the car when the door is opened on a wet day. A wind deflector is integrated into the car, and can be raised in just 2 seconds, Porsche says.