2015 Mercedes-Benz GLA-Class SUV to Debut in Frankfurt
Mercedes-Benz has divulged official details about the new 2015 GLA250 and GLA250 4Matic in advance of the 2013 Frankfurt Motor Show, where the entry-level luxury SUV will be shown for the first time. Smaller than the GLK-Class, the new 2015 GLA-Class is 2 inches longer, half a foot narrower, and half a foot shorter than a Land Rover Range Rover Evoque.

With the GLA250's design, Mercedes aims to achieve what it calls "sensual clarity" through three design values: Tradition, Emotion, and Progression.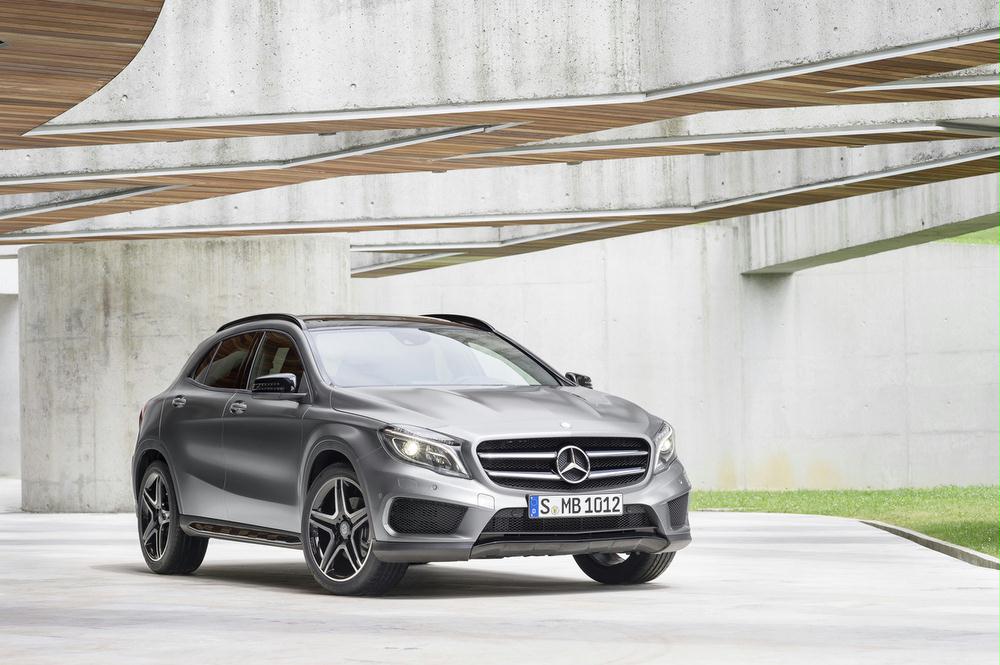 "With its striking features, the GLA embodies our progressive thinking and enthralls with its off-road proportions," says Gorden Wagener, vice president design at Daimler AG. "The clearly defined surfaces convey power and serenity, and we have managed to combine as much emotional appeal as possible with as much clarity as necessary."

Design highlights include a centrally mounted Mercedes-Benz star emblem embedded into the twin-louver grille, LED running lights, fog lights, simulated front skid plate, and power domes on the hood.

A signature "dropping line," as Mercedes calls it, extends from the headlights to the rear wheel arches, and the automaker says the GLA's side panels have depressions "shaped like an excavator's teeth" that are designed to emphasize SUV character. A set of 18-inch aluminum wheels is standard equipment, with 19-inch wheels available as an option.

Around back, divided taillights are designed to emphasize the GLA's width. The SUV is equipped with a load sill guard, rear skid plate, and a large rear spoiler that performs a genuine aerodynamic function. In fact, Mercedes says that its designers paid close attention to aerodynamics in order to maximize fuel efficiency, pointing to the use of underbody paneling as an example.

A turbocharged, direct-injection, 2.0-liter 4-cylinder engine resides under the GLA250's hood, generating 208 horsepower and 258 lb.-ft. of torque. It is equipped with a standard Eco Start/Stop system that shuts the engine off while the SUV is idling in traffic or at an intersection. A 7-speed dual-clutch automatic transmission delivers power to the front wheels, and Mercedes says that the GLA250 will provide "serene day-to-day driving" and "easy handling" but is also "robust enough for off-road excursions."

Naturally, a 4Matic 4-wheel-drive system with variable torque distribution is included with the GLA250 4Matic model, the first Mercedes to be equipped with the company's next-generation 4Matic system. So equipped, the GLA250 4Matic includes Downhill Speed Regulation and an Off-Road mode for the transmission that modifies shift points and throttle response appropriately.

Mercedes describes appropriate off-road terrain as the beach, loose dirt, and dirt roads. On pavement, the GLA250 4Matic accelerates to 60 mph in 6.4 seconds and hits a top speed of 145 mph, according to the automaker.

The GLA-Class is equipped with electric steering designed to provide steering assistance under certain driving conditions. Mercedes says it reduces the effect of torque steer when installed in the front-wheel-drive GLA250, and compensates for effects of cross winds and road crowns in all models. The steering also delivers counter-steering in the event that the GLA oversteers, and provides steering correction when the SUV is braking on variable surfaces.

Inside, the new GLA-Class has what Mercedes says is an "especially high-quality feel that is achieved by...high-grade materials." For example, the automaker points to silver-shadow galvanized trim surfaces with a cool-touch metallic finish as an example of the GLA's "material authenticity" and ability to leave an impression of "perfect detail." The automaker has also paid close attention to attenuating wind noise, as well as fitting cabin components with precise joints and gaps.

Standard equipment includes MB-Tex leatherette upholstery, Bluetooth connectivity, HD Radio, USB port, and mBrace2 telematics and mobile services. Every GLA-Class is also equipped with Attention Assist drowsiness detection and Collision Prevention Assist with Adaptive Brake Assist.

Buyers will be able to upgrade the GLA with an optional Driver Assistance package that adds, among other features, Collision Prevention Assist Plus with autonomous braking capability up to 124 mph. This system also prevents rear-end collisions up to 12 mph. Blind Spot Assist and Lane Keeping Assist are also available, along with Parktronic with Park Assist that steers the SUV into both parallel and perpendicular parking spaces while the driver operates the foot pedals.

Additional options include genuine leather, matte satin wood trim, ambient cabin lighting, panoramic sunroof, power rear liftgate, and 19-inch aluminum wheels. The available COMAND navigation system includes an off-road display with a compass that displays the SUV's steering angle and roll angle, as well as surface gradient.

The 2015 Mercedes GLA-Class goes on sale in the United States in the fall of 2014. Prices will be finalized closer to that date.

Additional Research: