Chevy Suburban Turns 80, Celebrates with Redesign for 2015
In 1935, General Motors introduced the first Chevrolet Carryall Suburban, essentially a station wagon constructed upon a half-ton pickup truck frame and designed to carry multiple people in 3 rows of seats. That basic formula remains in place 80 years later, as Chevrolet debuts a completely redesigned 2015 Suburban that Chevy says is improved over the previous iteration in nearly every respect.

"There are several new features and enhancements at the core of the all-new 2015 Suburban that will extend the legacy Chevrolet has built as the segment leader," said Tim Mahoney, Chevrolet global chief marketing officer. "Customers will experience greater refinement, efficiency, and safety with the same capability that has made Chevrolet the go-to brand for full-size SUVs."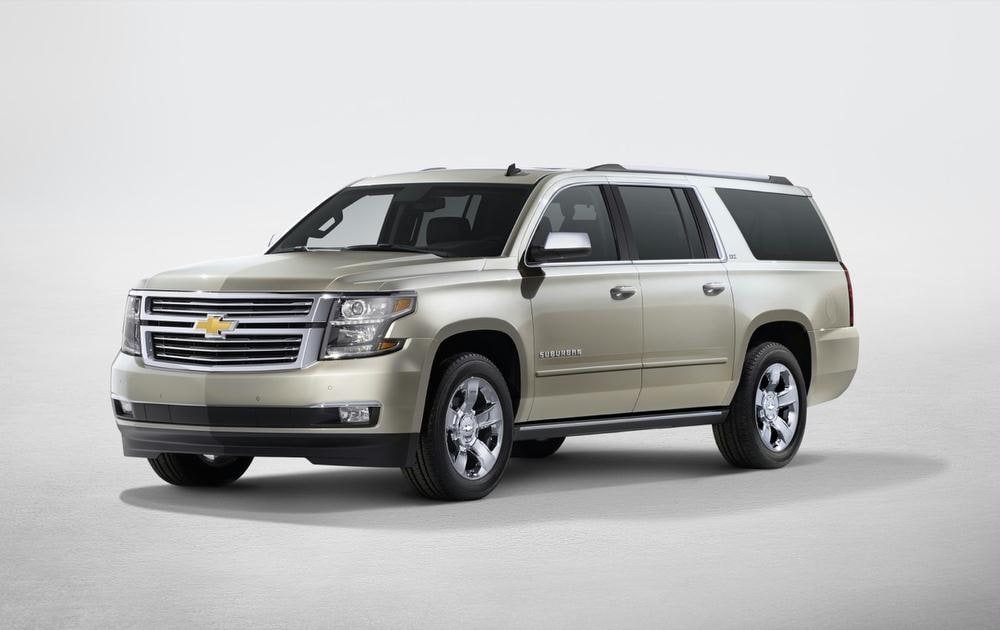 The 12th generation 2015 Suburban is basically an extended version of the also-new 2015 Chevrolet Tahoe, one that provides additional head room and leg room for rear-seat passengers compared to the Tahoe, as well as greater cargo capacity. However, for 2015, the Suburban's capacity to carry people and cargo actually shrinks compared with the outgoing 2014 model.

For example, third-row leg room measures 34.9 inches in the old Suburban, while the new 2015 Suburban provides 34.5 inches of third-row leg room. The old model could carry 45.8 cu. ft. of cargo behind the third-row seat, 90 cu. ft. behind the second-row seat, and a maximum of 137.4 cu. ft. with the seats folded and/or removed. Cargo capacity for the new 2015 Suburban measures 38.8 cu. ft., 76.4 cu. ft., and 121.4 cu. ft., respectively. However, note that the third-row seat in the new Suburban no longer needs to be unlatched, lifted, and removed from the SUV to create a flat load floor and maximize cargo capacity, so perhaps the trade-offs are worthwhile.

Otherwise, the list of changes reflects positively on the redesigned 2015 Chevy Suburban. The exterior styling is more aerodynamic, quieting the cabin and contributing to what Chevrolet expects will be improved fuel-economy estimates. The new Suburban is also more than 100 pounds lighter, thanks in part to an aluminum hood and tailgate.

Built on a stronger, fully boxed frame commonly found beneath traditional pickup trucks, the 2015 Suburban is powered by a new 5.3-liter V-8 engine equipped with variable valve timing, direct fuel injection, and Active Fuel Management technology that operates the motor on 4 cylinders under certain driving conditions in order to conserve gas. The V-8 generates an estimated 355 horsepower at 5,600 rpm and 383 lb.-ft. of torque at 4,100 rpm, and final EPA fuel-economy estimates will be established closer to the SUV's arrival in Chevy showrooms.

A 6-speed automatic transmission delivers power to the Suburban's rear wheels. The automatic is equipped with TapShift manual gear selection, powertrain grade braking, and a tow/haul mode for when a trailer is attached to the SUV. Maximum towing capacity for the new 2015 Suburban is 8,300 pounds with 2-wheel drive, and 8,100 pounds when the vehicle is equipped with its optional 4-wheel-drive system. Those tow ratings are increased by 200 pounds and 100 pounds, respectively, over the old 2014 Suburban.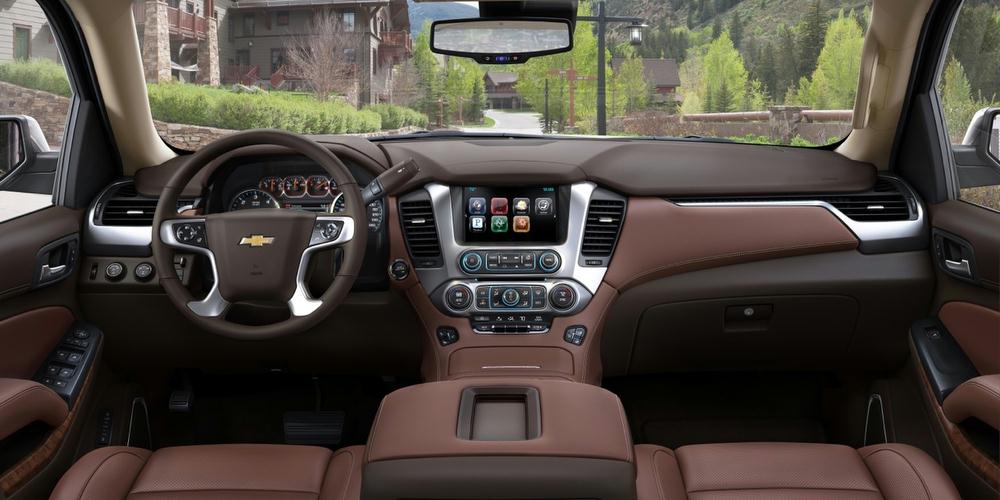 In addition to the new frame and powertrain, the 2015 Suburban has a revised suspension, electric steering, and upgraded braking components. The SUV retains its solid rear-axle suspension design, but now incorporates the splayed shock absorber arrangement from the 2014 Silverado pickup truck. A Magnetic Ride Control suspension is optional for the top trim level, the Suburban LTZ. Additionally, Chevrolet installs Duralife brake rotors for the standard 4-wheel ventilated-disc braking system, rust-resistant components designed to last twice as long as conventional rotors.

If the Suburban's interior isn't quite as spacious as before, the changes for 2015 suggest that upgraded safety and infotainment technologies may be worth any compromises. In addition to seating that is easier to use and access, the 2015 Suburban is available with next-generation Chevrolet MyLink technology that includes an 8-inch color touch-screen display with a locking storage compartment hidden behind the screen. Up to 6 USB ports and 6 power outlets, including one with 110 volts of current that accommodates 3-pronged plugs, keep everyone aboard the Suburban powered up and connected. A dual-screen rear-seat entertainment system is exclusive to the Suburban (not offered on the 2015 Tahoe), and it includes a Blu-Ray DVD player.

The new Chevy Suburban also offers a long list of safety-related technologies. A reversing camera and rear park-assist sensors return for 2015, complemented by new systems including front park-assist sensors, adaptive cruise control with forward-collision warning, lane-departure warning, Lane Change Assist, rear cross-traffic alert, and a Safety Alert Seat. Vehicles equipped with front bucket seats also have a new front-center air bag that is designed to protect occupants from injury resulting from a collision occurring on the opposite side of the vehicle from where they are sitting.

As was true of the previous Suburban, OnStar telematics is standard equipment for the redesigned 2015 model. It is free for the first 6 months of ownership, thereafter requiring a subscription to remain active. Among its many services, Automatic Crash Notification activates if the SUV's air bags deploy, putting occupants in touch with a live representative who can speed rescuers to the scene of the accident. Additionally, the new Suburban can be fitted with sensors that can detect glass breakage, unauthorized vehicle motion, and motion within the cabin, when the vehicle is parked, automatically activating the alarm system while defeating key vehicle systems in order to make the SUV difficult, or impossible, to move.

Chevrolet says the new Suburban will start rolling off of an Arlington, Texas, assembly line in time to go on sale during the first quarter of 2014. Full pricing, standard and optional equipment details, fuel-economy ratings, and more will be available closer to the SUV's on-sale date.

Additional Research: