2015 Hyundai Tucson Fuel Cell Expands Hydrogen Market
Fuel cell technology, in which hydrogen fuel is converted into electricity to power an automobile, is not new. Several car companies have been experimenting with these zero-emission powertrains for years, and Honda has even made a hydrogen-powered fuel-cell car called the FCX Clarity available to a handful of early adopters in California. The limiting factor for fuel-cell vehicles is not the technology. Rather, in a classic chicken-or-egg debate, it is the lack of local and national hydrogen fuel station networks that has kept fuel-cell cars in the conceptual, developmental, and testing stages.

Hyundai has decided that the wait for a mass-produced fuel-cell vehicle is over. At the 2013 Los Angeles Auto Show, the automaker unveiled the 2015 Tucson Fuel Cell, a crossover SUV that will be available to residents of Southern California starting in the spring of 2014. Interested buyers will be able to lease one for 36 months at a monthly payment of $499. A down payment of $2,995 is required, but the lease includes an unlimited amount of free hydrogen fuel and an At Your Service Valet Maintenance program. Initially, four dealerships will sell the Tucson Fuel Cell, with additional outlets and regions adding the vehicle as hydrogen fuel station networks expand.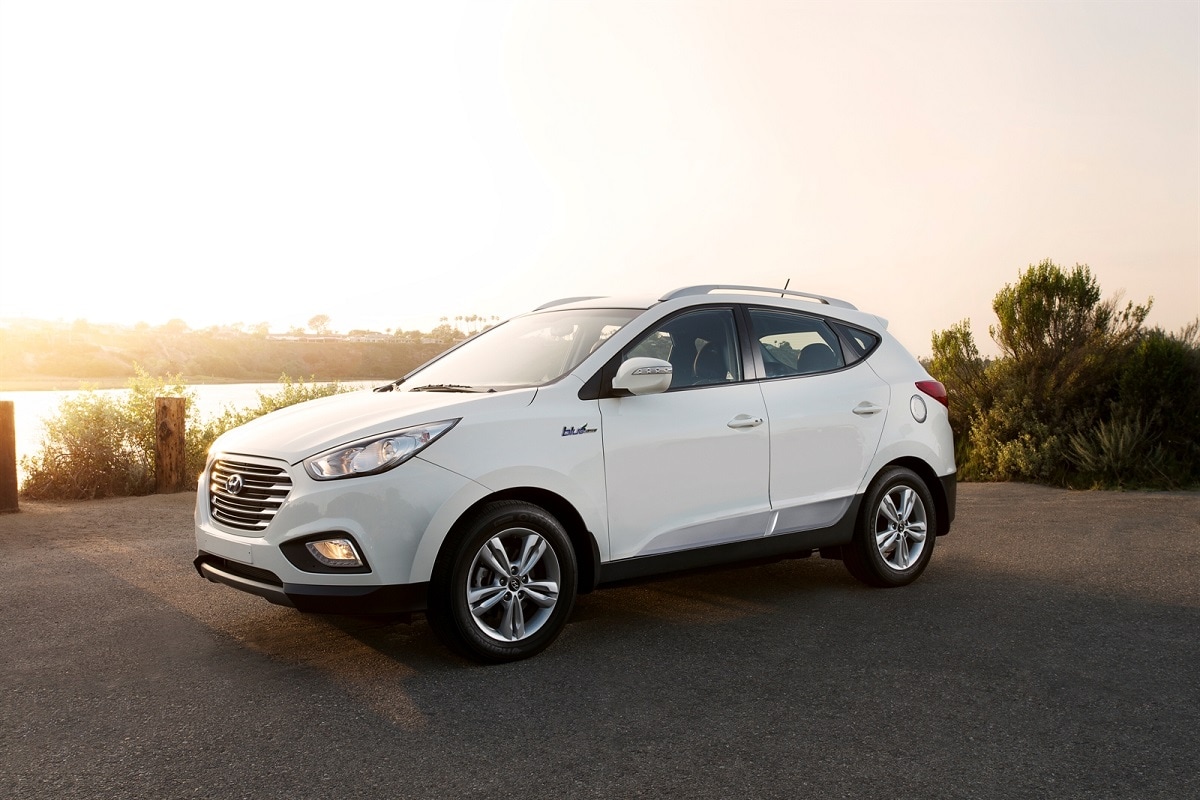 Hyundai calls the 2015 Tucson Fuel Cell the first mass-produced, federally certified fuel-cell vehicle. When introducing the new Tucson Fuel Cell, John Krafcik, president and CEO of Hyundai Motor America, said, "Hydrogen-powered fuel cell electric vehicles represent the next-generation of zero-emission vehicle technology." Krafcik also reminded his audience that the Tucson Fuel Cell's "superior range and fast-fill refueling speed" contrast with what the automaker characterized as the "slow-charge characteristics" and lower driving range of current electric vehicles.

According to Hyundai, the Tucson Fuel Cell can be refueled in fewer than 10 minutes, provides a driving range of up to 300 miles, and emits nothing but water vapor from its exhaust pipe. The electric motor delivers 221 lb.-ft. of instant torque, compared with 177 lb.-ft. at 4,000 rpm with the standard Tucson's larger 2.4-liter gasoline engine. Hyundai also claims superior cold-weather operation compared with battery-powered electric vehicles, and says that it has conducted extensive crash, fire, and leak testing on the Tucson Fuel Cell in order to optimize safety.

Like Honda, Hyundai has been testing fuel-cell technology for more than a decade, and the automaker has racked up more than two million miles on its fuel-cell fleet since 2000, the company says. Hydrogen fuel is produced domestically from "virtually unlimited" sources, according to Hyundai. For example, Hyundai says it has been testing its prototypes using hydrogen derived from the methane gas emitted by sewage at California's Orange County Sanitation District. The automaker also notes that the fuel can also be produced from water using electrolysis.

The new 2015 Tucson Fuel Cell enters production in February of 2014. If interested parties aren't quite ready to sign on the contract's dotted line, Hyundai plans to make the vehicle available to rent through certain Enterprise Rent-A-Car outlets in order to give prospective customers the opportunity to live with fuel-cell technology before committing to the 36-month lease.

Additional Research: