Cadillac Elmiraj Concept Hints at Flagship to Come
One year after debuting the critically acclaimed Cadillac Ciel Concept at the Pebble Beach 2012 Concours d'Elegance, the luxury automaker unveils its latest concept vehicle to demonstrate the future of Cadillac design. At the new Cadillac Elmiraj Concept's debut, stylists characterized the Elmiraj Concept as a streamlined, provocative, modern design, a statement of pure luxury and performance, one that represents an evolution of Cadillac's defining Art & Science themes.

"Elmiraj is about poise and proportion," said Niki Smart, lead exterior designer. "We wanted a mature statement for Cadillac, where simplicity and subtle adornments create a purposeful presence."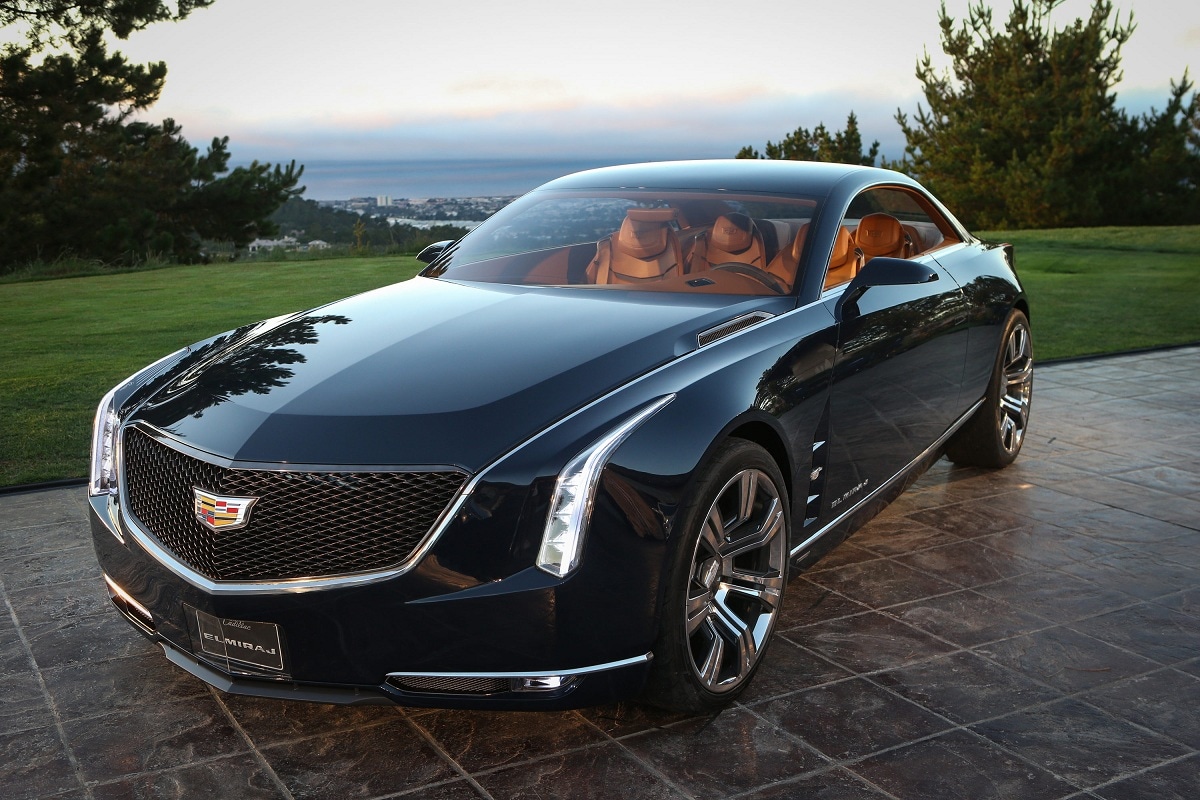 Although the Cadillac Elmiraj Concept is a 4-seat coupe, it is a big car, stretching 205 inches in length and 76 inches in width, and rides on 22-inch aluminum wheels. However, the car's height measures just 55 inches, and the cabin is placed far back on the chassis to create a long dash-to-axle ratio, a hallmark of performance-oriented vehicles.

"We were influenced in particular by the 1967 Eldorado, both its actual design and the fact that in its time that car was a very stark contrast and a new direction," said Clay Dean, executive director of advanced design, citing how the original Eldorado was a major statement of performance and luxury that drove Cadillac forward.

The Elmiraj concept displays Cadillac signature vertical lighting elements front and rear, is equipped with functional hood vents, and wears a "Vsport" badge. Also, note the new Cadillac crest in the car's grille, one without the traditional wreath, appearing to confirm a rumor that the wreath will be removed when the crest is next redesigned.

While the original Eldorado might have influenced the Cadillac Elmiraj Concept's design, the concept car's engineering takes a distinctly different approach. The Elmiraj is a rear-wheel-drive vehicle built on the lightweight chassis and structural elements "of an ongoing vehicle development project slated for future production," the automaker said. Under it's long hood, the Elmiraj contains a new twin-turbocharged, 4.5-liter V-8 engine estimated to produce 500 horsepower and 500 lb.-ft. of torque, plenty of power to motivate the car's estimated 4,000-pound curb weight. Peer through the spokes of the 22-inch wheels and note the ceramic brakes with monoblock calipers.

Inside, the Elmiraj features Brazilian Rosewood and backlit Titanium trim, and seats four people in performance-bolstered bucket seats wrapped with Camel leather. The rear seats have a valet feature, powering forward to make entry and exit easier. They also recline for greater comfort. The driver faces transparent analog gauges fronting a widescreen information display, and a 10-inch infotainment touch screen in the center of the control panel can be concealed when it is not in use.

While the Elmiraj Concept may prove to be a mirage from a styling and packaging standpoint, Cadillac confirms that the vehicle's underlying engineering is currently in development and, in previous statements, GM has said that it is developing a new flagship model. Are there dots to be connected here? Time will tell.

Additional Research: