2014 Mercedes-Benz E-Class Introduces "Intelligent Drive"
Mercedes-Benz has long been an innovator when it comes to safety technology, and was the first automaker to offer stability control in a production car back in 1995. Now, the company is introducing a new 2014 Mercedes E-Class equipped with a suite of safety features that the automaker calls "Intelligent Drive."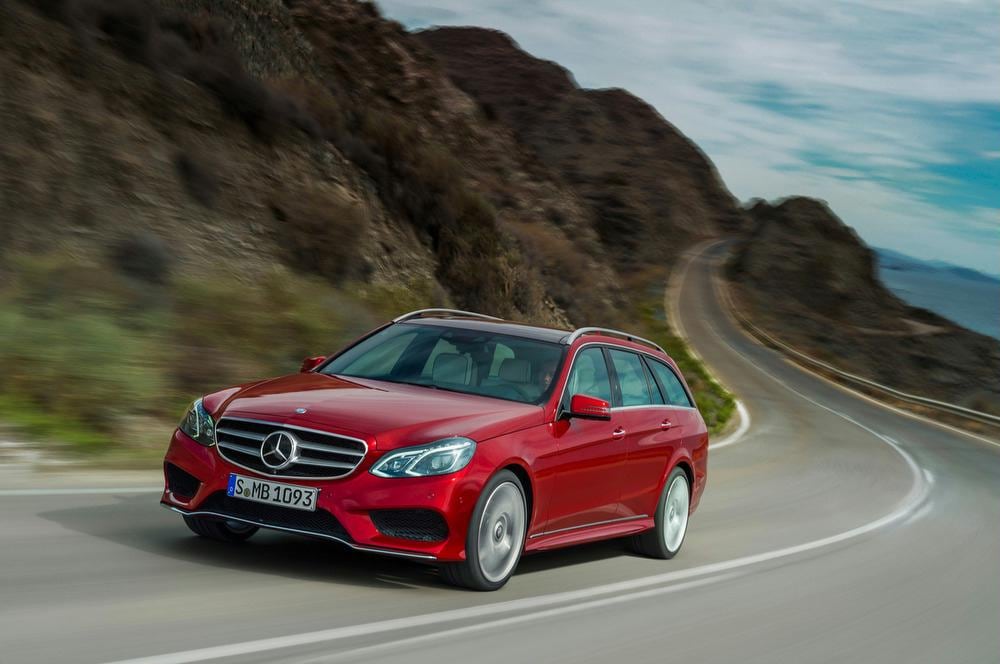 Intelligent Drive is rooted in new state-of-the-art sensors and their associated algorithms, which capture and dissect data to power 11 new or "optimized" driver assistance systems debuting in the updated and upgraded 2014 E-Class Sedan and Wagon models.

One key element of Intelligent Drive is a new Stereo Multi-Purpose Camera System, which employs two cameras mounted on the windshield near the rearview mirror. Aimed at 45-degree angles to the direction of travel, the cameras provide a three-dimensional view of objects within 55 yards of the front of the vehicle, with a total range of up to 550 yards. This system can identify animals, pedestrians, oncoming traffic, cross traffic, and traffic that is being followed by the E-Class, and continually process the data to determine if safety hazards exist and when autonomous systems should take corrective action.

The data informs the E-Class models' standard Collision Prevention Assist and Adaptive Brake Assist systems, as well as the optional Surround View Camera system and the Active Park Assist system that autonomously steers and brakes as the E-Class enters a parallel or perpendicular parking space.

Active Lane Keeping Assist is optional, and prevents the E-Class from wandering and colliding with adjacent or passing vehicles, or other obstacles next to the vehicle. The E-Class is also offered with Distronic Plus with Braking Assist, an active cruise control system that keeps the car centered in its lane and provides semi-autonomous following of traffic ahead.

Additional extra-cost safety features include Brake Assist Plus with Cross-Traffic Assist, which boosts braking power when the driver takes action to avoid a pedestrian or cross traffic, and Pre-Safe Brake which autonomously brakes the car when it detects a pedestrian and the driver is taking no action to stop the vehicle. The new 2014 E-Class is also offered with Pre-Safe Plus technology, which can tell if the vehicle is about to get rear-ended by another motorist, can prepare safety systems in advance of impact, and can apply the brakes to keep it from sliding into other vehicles and suffering secondary impacts.

Attention Assist technology continues as standard equipment for the new E-Class, but the system now offers a greater range of sensitivity that the driver can calibrate. Another new safety-related option is Adaptive High-Beam Assist Plus, which provides continuous high-beam headlight operation without producing glare for oncoming motorists.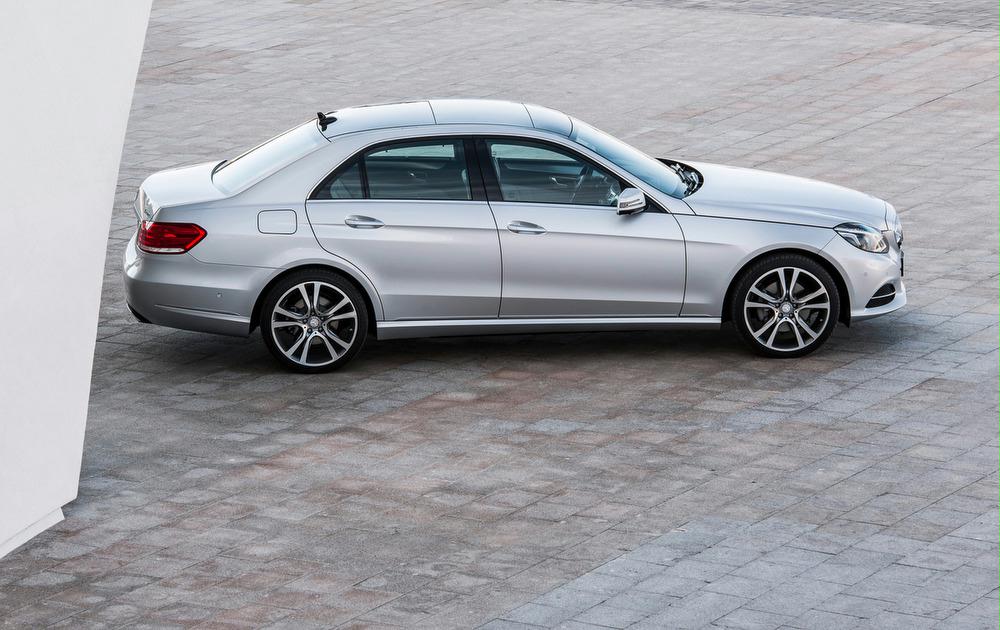 The updated 2014 Mercedes-Benz E-Class Sedan and Wagon receive more than just Intelligent Drive technology. The sheetmetal is new, highlighted by single-piece headlight lenses, horizontal LED taillights, and smoother flanks with new lines that are intended to make the car appear longer, wider and more elegant.

As with the C-Class, the 2014 E-Class will offer two different exterior styling themes. Luxury models will get a traditional chrome grille with a stand-up hood ornament, while Sport models will get an AMG styling treatment with larger front air intakes and a sport grille with an embedded Mercedes emblem. Sport models are also equipped with a sport suspension, lowered ride height, and dual exposed exhaust outlets.

Changes to the interior are subtle. New "3-tube" instrumentation is added, the radio controls are redesigned, an analog clock is added to the dashboard, and the car gets new air vents and wood trim.

Four different powertrains are offered for the new 2014 E-Class, not including the E63 AMG model, details about which will be available at a later date. All are equipped with a 7-speed automatic transmission with a Direct Select gear lever and paddle shifters, and all have standard automatic stop/start technology to help improve fuel economy.

The new E250 BlueTec model is equipped with a turbocharged, 2.1-liter clean diesel engine generating 190 horsepower and 369 lb.-ft. of torque. It can be paired with an optional 4Matic all-wheel-drive system. Other engines are carried over from the 2013 E-Class lineup: 302-horsepower 3.5-liter V-6 for E350 models; same V-6 plus an electric assist motor for E400 Hybrid models; twin-turbocharged, 4.6-liter V-8 with 402 horsepower for E550 4Matic models. The 4Matic AWD system is optional for E350 Sedans and standard for E350 Wagons.

Mercedes says the new E350 and E550 4Matic models arrive in the spring of 2013, followed by the E250 BlueTec and E400 Hybrid in the fall. An updated E63 AMG Sedan and E63 AMG Wagon are also due, and will be introduced in Detroit at the 2013 North American International Auto Show in January.

2013 Mercedes-Benz E-Class Summary, Photos & Specs
2012 Mercedes-Benz E-Class Ratings
Mercedes-Benz Car & Truck Ratings