IIHS Crash Testing of Small Cars Reveals New "Top Safety Pick" Models

The Insurance Institute for Highway Safety (IIHS) has completed its latest round of crash tests, examining 12 small vehicles that typically sell in low volumes. Only one of the tested models earned the highest rating of "Top Safety Pick+" due to its crash-test performance and available collision-warning system, while five additional models received a "Top Safety Pick" rating. The remaining six small cars did not qualify for recommendation by the IIHS.

According to the IIHS, the 2014 Chevrolet Volt receives a "Top Safety Pick+" rating. It joins the 2014 Honda Civic Sedan, 2014 Mazda 3, 2014 Toyota Prius, 2015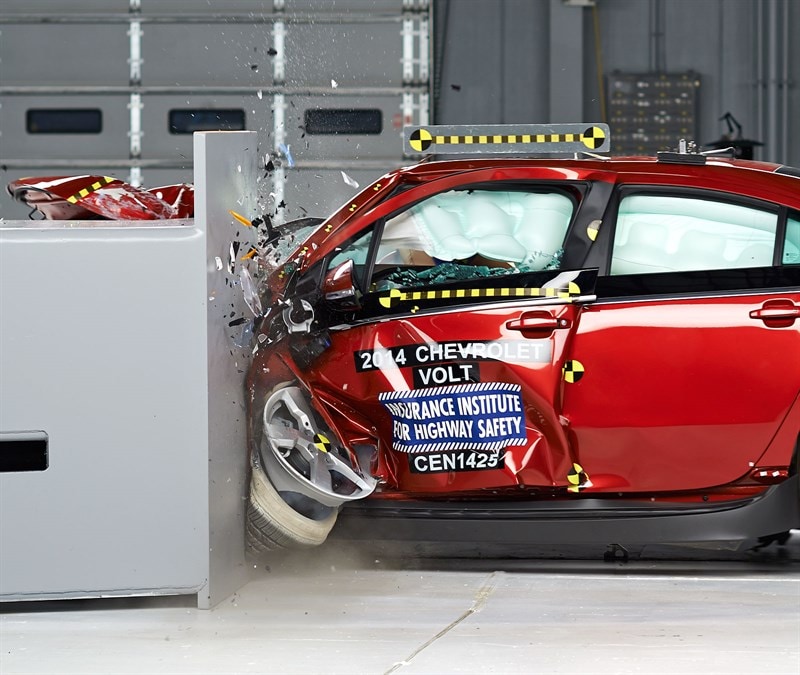 Volkswagen Golf 4-door, and 2015 Volkswagen Golf GTI 4-door as the only small cars to receive this rating.

Five additional models receive a "Top Safety Pick" rating, bringing the total number of small cars earning that rating to 14 models. The newest members of the club include the 2014 Ford C-Max Hybrid, 2014 Mini Cooper Countryman, 2014 Mitsubishi Lancer, 2014 and 2015 Scion FR-S, and 2014-2015 Subaru BRZ. Note that the rating for the Lancer does not include Ralliart or Evolution variants.

Though larger and heavier vehicles typically offer greater protection in a collision, they also tend to be more expensive and less fuel-efficient, meaning that some consumers prefer to purchase a smaller car. In recognition of this, Joe Nolan, senior vice president for vehicle research at the IIHS, said of the "Top Safety Pick" winners: "Consumers trading the inherent safety of a larger vehicle for the convenience or fuel economy of a small car should focus their search on these vehicles with state-of-the-art safety designs."

To earn a "Top Safety Pick" in 2014, a vehicle must receive an "Acceptable" or a "Good" rating in the small overlap frontal offset crash-test, combined with "Good" ratings in all other assessments. The "Top Safety Pick+" rating is given only to those models that also offer front crash-prevention technology as standard or optional equipment. The IIHS is tightening its requirements in 2015, making it more difficult for auto manufacturers to earn the top rating.

While six of the 12 cars tested performed well, the other six did not. The Hyundai Veloster and the Scion xB received "Marginal" ratings in the small overlap frontal-impact test. Additional results for the Scion, which pertain to vehicles built after February of 2014, are "Good," meaning this affectionately nicknamed box-on-wheels missed a "Top Safety Pick" rating solely due to its small offset crash-test performance. The Veloster, however, also received an "Acceptable" rather than a "Good" rating for side-impact protection.

The remaining four models each earned a "Poor" rating in the small overlap frontal-impact test. Nolan explains: "Collapse of the occupant compartment is the downfall for four small cars in this group, including the Fiat 500L, Mazda 5, Nissan Juke, and Nis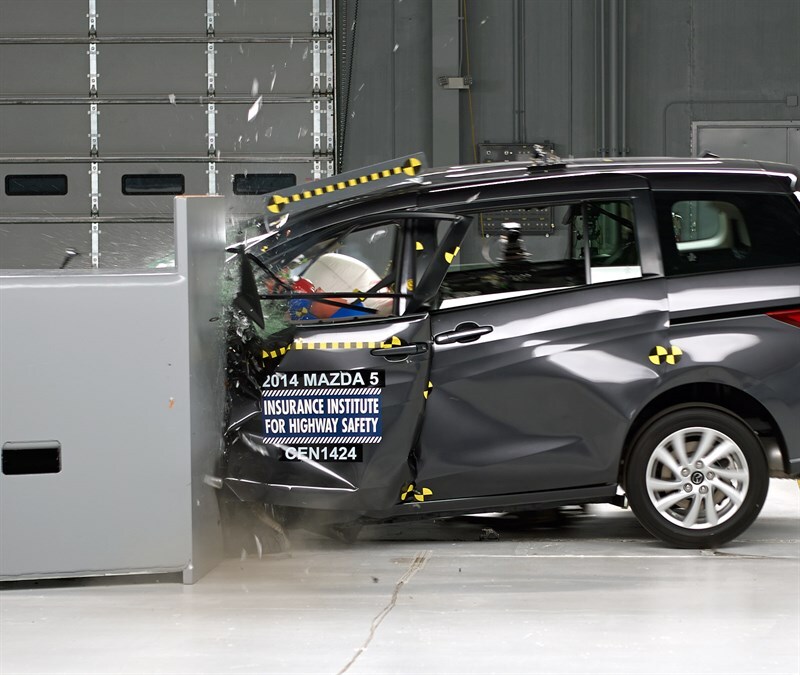 san Leaf. A sturdy occupant compartment allows the restraint systems to do their job, absorbing energy and controlling occupant motion."

Not only did the Mazda 5 perform poorly as a member of this group of tested vehicles, the IIHS calls it one of the three worst performing vehicles it has ever assessed in terms of small overlap frontal-impact protection. The other two models are the 2014 Kia Forte and 2012-2014 Toyota Prius V. However, the Kia and the Toyota earned "Good" ratings in all other IIHS tests, while the Mazda 5 does not. In the side-impact test it gets a "Marginal" rating and for rear-impact injury prevention the Mazda 5 earns an "Acceptable" rating.

"When we tested the Mazda 5 we saw a host of structural and restraint system problems. Parts of the occupant compartment essentially buckled, allowing way too much intrusion," Nolan said.

The IIHS began assessing vehicles for small overlap frontal-impact crash protection in 2012. Designed to replicate what happens when a vehicle traveling 40 mph collides with oncoming traffic, a tree, or a utility pole on the front left corner, this test bypasses the main front crush-zone structures on a modern vehicle, making it harder for the vehicle to manage crash energy. Vehicles that perform well in this test are, in the estimation of the IIHS, safer than vehicles that do not.