Redesigned 2013 Toyota RAV4 Rates "Poor" in Tough New Crash Test
Earlier this year, the Insurance Institute for Highway Safety (IIHS) began crash-testing vehicles in a new small overlap frontal impact test. The new test is designed to measure how well modern vehicle structures protect the driver when the brunt of impact force is concentrated on the front left corner of the vehicle, which commonly happens when a vehicle collides with oncoming traffic.

In previous testing of small SUVs, the 2013 Mitsubishi Outlander Sport and the redesigned 2014 Subaru Forester performed well in the new test, receiving an "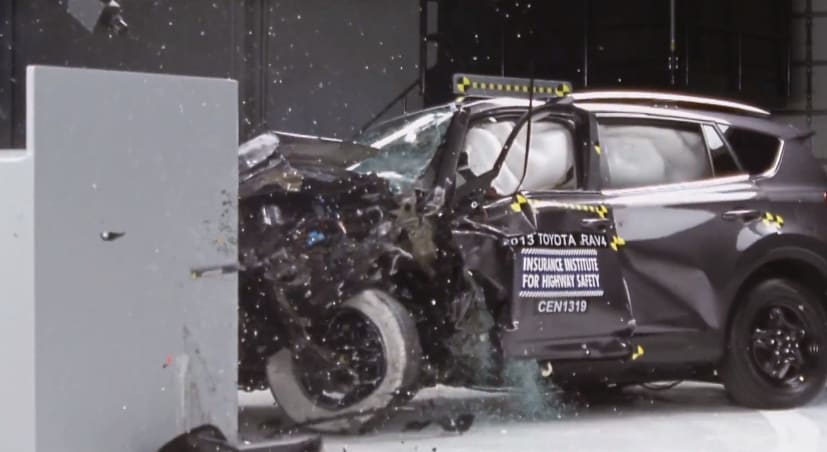 Acceptable" rating and a "Good" rating, respectively. In fact, at the time, the IIHS said the new Forester performed better, overall, than any other vehicle it had ever tested.

Now, the redesigned 2013 Toyota RAV4 has undergone the new small overlap frontal impact test, and this popular crossover has received a "Poor" rating in the new assessment, joining the Buick Encore, Ford Escape, Hyundai Tucson, Jeep Patriot, and Kia Sportage among compact SUVs that receive the same score in the same test.

"This is a challenging test," says Institute President Adrian Lund. "Most manufacturers are going to need to make significant changes to their vehicles in order to improve protection in these kinds of serious frontal crashes."

At the time the other small SUVs were tested, the IIHS elected to delay RAV4 testing because Toyota said it was making modifications intended to improve the RAV4's likely performance in the new assessment. According to the IIHS, RAV4 vehicles built after April of 2013 have extra padding under the footwell carpeting and include changes designed to better control steering column stability.

Those changes were unable to improve the RAV4's rating. The IIHS said in a statement that the RAV4's "driver's space was seriously compromised by intruding structure, and the dummy's left foot was trapped by crushed and buckled sheet metal in the footwell."

Additionally, the IIHS reported: "The dummy's head barely contacted the frontal air bag before sliding off the left side as the steering column moved more than 7 inches to the right, resulting in little air bag cushioning for the chest. Additionally, the safety belt allowed excessive forward movement of the dummy's head and torso, contributing to the head hitting the instrument panel."

During the first half of 2013, the RAV4 was Toyota's fourth best-selling model after the Camry, Corolla, and Prius.

Additional Research: