Bevy of Jeep Wrangler Concepts Hits the Trails in Moab
Each year, thousands of off-road driving enthusiasts converge on Moab, Utah, for the annual Easter Jeep Safari, and Jeep likes to delight the crowds with conceptual versions of their favorite SUVs, having built more than 40 one-off models for this event since 2002. This year, in addition to an EcoDiesel-powered Grand Cherokee concept (discussed separately), Jeep arrives in red rock country with five Wrangler concepts showcasing production and prototype Jeep Performance Parts, which the automaker says are designed, built, and tested to rigorous Jeep specifications.

"We created our new Jeep Performance Parts portfolio for extreme off-road Jeep fanatics," said Pietro Gorlier, president and CEO of Mopar, Chrysler Group LLC's service, parts and customer-care brand. "Jeep owners who are passionate about customization, performance, and personalization will have a long menu of Jeep Performance Parts from which to choose."

Here are the details, with the Wrangler concept vehicle listed in alphabetical order: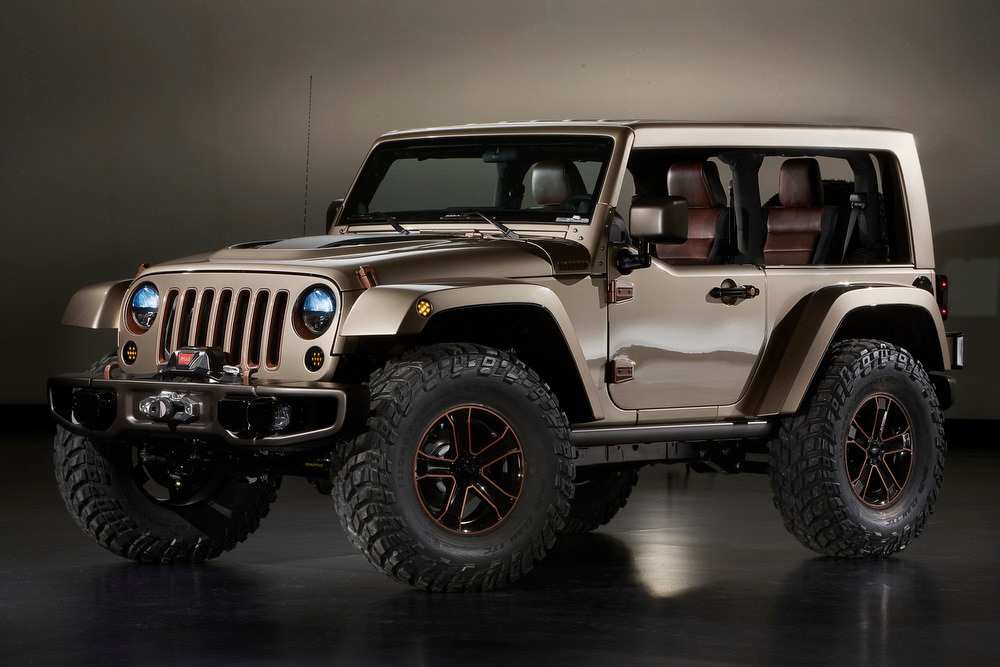 Jeep Wrangler Flattop Concept
With the Wrangler Flattop Concept, Jeep aims to blend an upscale appearance with hard-core off-roading components. The SUV is painted Metallic Sandstone with Copper hardware and Dark Brown trim, and is equipped with a custom windowless hardtop chopped to the same height as the reduced windshield. A modified hood, revised bumpers, and LED lighting add to the effect, and an oversized Warn winch completes the exterior modifications. Inside, this Jeep has Dark Saddle premium leather seats and Copper accents.

The Wrangler Flattop Concept rolls on 5-spoke aluminum wheels and 37-inch Mickey Thompson off-road tires. Jeep installs DynaTrac Pro Rock 44 front and Dana 60 rear axles with ARB lockers and TeraFlex sway bars, as well as full-traction control arms. King shocks with pneumatic bump stops are bolted in, along with a Mopar cold-air intake and exhaust system.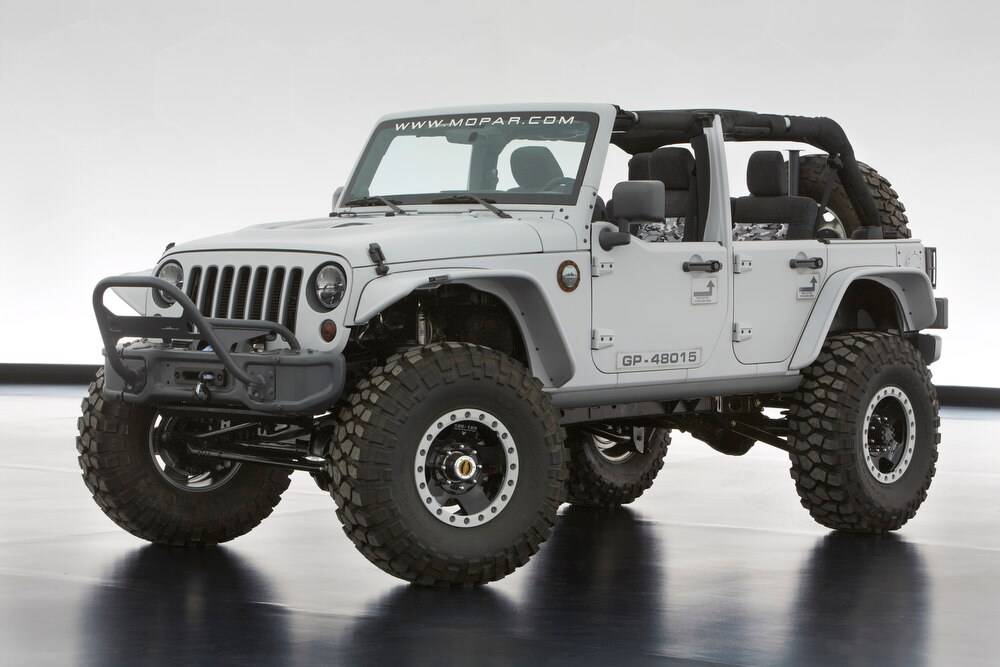 Jeep Wrangler Mopar Recon Concept
Equipped with custom seat coverings made from Navy blankets and Navy camouflage materials, as well as a canvas roof, the Wrangler Mopar Recon Concept has a military flavor. A 470-horsepower, 6.4-liter Hemi V-8 crate engine from the Mopar parts catalog delivers the firepower, working in tandem with Dana 60 front and rear axles with 4.10 gearing, 4.5-inch long-arm lift kit, and forged 8-lug beadlock wheels with 39-inch off-road tires. Modified off-road bumpers, a Warn winch, high-clearance fenders, and rock rails give the Wrangler Mopar Recon Concept a distinctive appearance, and LED headlights illuminate the way after dark.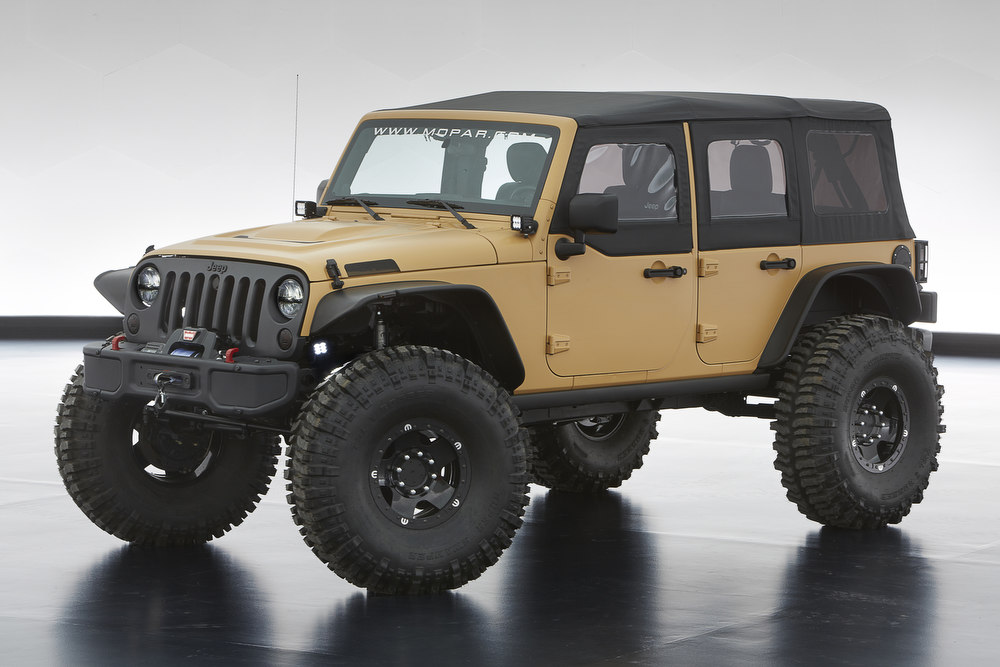 Jeep Wrangler Sand Trooper II Concept
Equipped with a 375-horsepower, 5.7-liter Hemi V-8 engine, the Wrangler Sand Trooper II Concept is built for soft terrain with 8-lug front and rear Portal axles for improved ground clearance and a set of 40-inch off-road tires mounted on beadlock wheels. A half-door and window kit, off-road bumpers, rock rails, and a Warn winch add functionality and a unique appearance, and the Sand Trooper II is equipped with a hood lock and LED lighting. Inside, this conceptual Jeep offers leather seats, reversing camera system, slush mats, and locking storage solutions.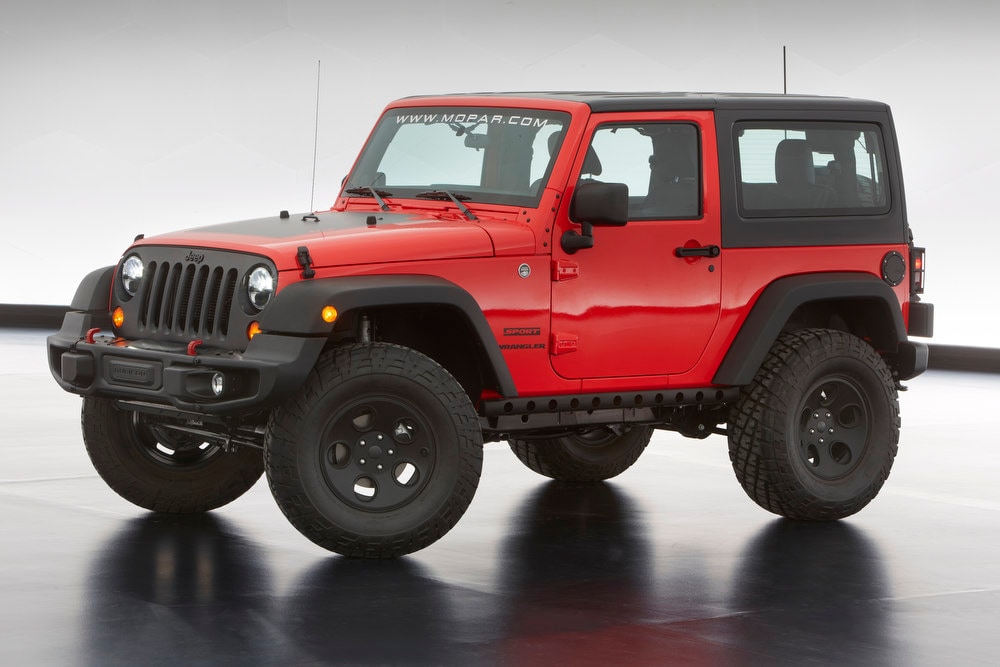 Jeep Wrangler Slim Concept
One of two lightweight Wrangler concepts on display in Moab, the Wrangler Slim is the less extreme model. The bumpers and rock rails weigh less than stock, but the Slim Concept sticks with a 2-door hardtop, full doors, and the original 3.6-liter V-6 engine, upgraded with a Mopar cold-air intake and a 3:73 anti-spin axle. The same tires as found on the Rubicon model are installed on 17-inch forged beadlock wheels, and a 2-inch lift kit supplies additional ground clearance. Painted an unmistakable shade of paint called Rock Lobster, the Wrangler Slim is equipped with LED headlights and, uniquely, a CB radio.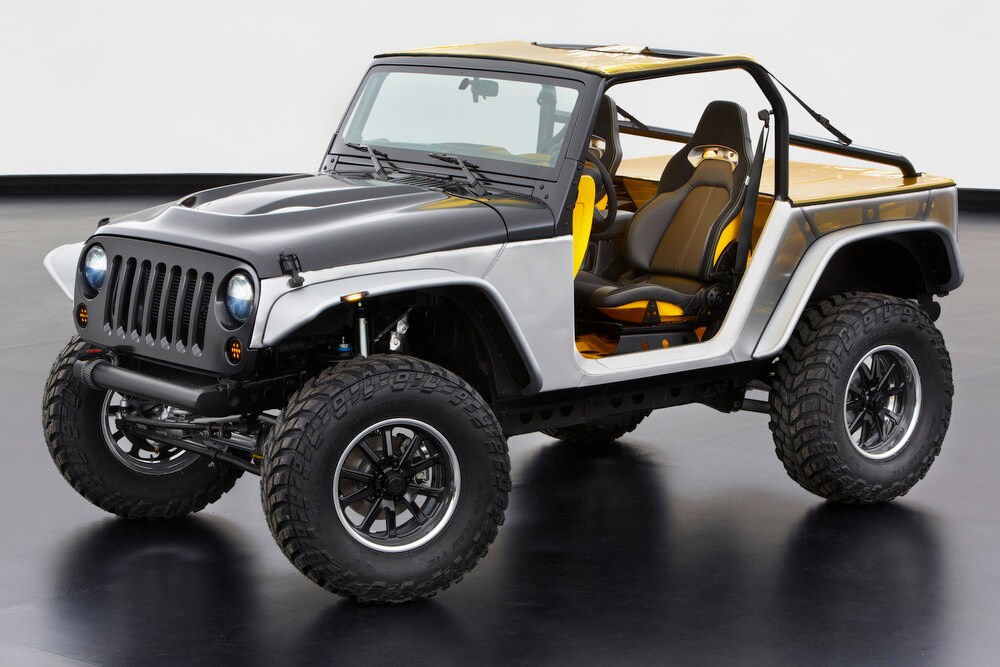 Jeep Wrangler Stitch Concept
Based on the Wrangler Rubicon, the Wrangler Stitch Concept is about extreme weight reduction. This Wrangler is lightened to 3,000 pounds, giving it the same power-to-weight ratio as a Grand Cherokee SRT. Jeep stripped as much weight as possible out of the Stitch Concept's frame, body, axles, and interior, which means it has no stereo, climate system, rear seats, or doors. Lightweight black leather seats from the SRT Viper are bolted into this Jeep, and the Stitch Concept employs a carbon fiber hood and LED headlights.

Hardware modifications include a Mopar cold-air intake and exhaust system, DynaTrac Pro Rock 44 axles with 4.88 gears and ARB front and rear lockers, King shocks with pneumatic bump stops, and Tom Woods driveshafts. Lightweight 17-inch wheels are shod with 35-inch Mickey Thompson off-road tires.

Additional Research: