New Small SUV Crash Tests by IIHS Reveal Safety Rock Stars
The Insurance Institute for Highway Safety (IIHS) has begun conducting a tough new frontal-impact crash test designed to measure a vehicle's ability to protect occupants when the car, truck, SUV, or minivan strikes a tree, a pole, or an oncoming vehicle on the front left corner of the tested vehicle. In the most recent round of testing, the IIHS crashed 13 popular small SUV models. Only two of the models passed the test and earned a "Top Safety Pick+" rating from the IIHS: the 2014 Subaru Forester and the 2013 Mitsubishi Outlander Sport.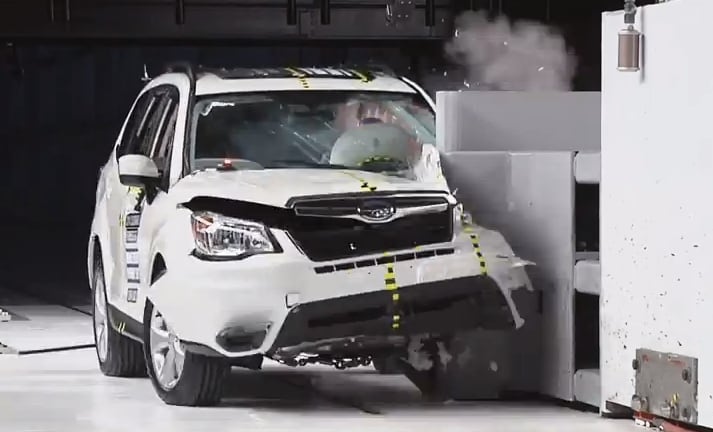 "With the redesigned Forester, Subaru's engineers set out to do well in our new test, and they succeeded," says Joe Nolan, the Institute's vice president for vehicle research. "This is exactly how we hoped manufacturers would respond to improve protection for people in these kinds of serious frontal crashes." The IIHS says the Forester is "the first vehicle to ace every aspect of the challenging small overlap front crash test."

The IIHS implemented the small overlap frontal crash test last year following a 2009 study by the Institute, finding that such crashes accounted for nearly a quarter of the frontal crashes involving serious or fatal injury to front-seat occupants. This is because, traditionally, a vehicle's underlying crash energy management structure is not designed to account for these types of impacts, according to the IIHS. As a result, occupant compartments can suffer greater damage and collapse in these kinds of collisions, which also tend to rotate a vehicle to the side and move occupants' heads out of intended air bag protection zones.

In the latest round of small overlap frontal-impact crash tests, the IIHS tested the following models, which received the following ratings in the new test:

2013 BMW X1--"Marginal"
2013 Buick Encore--"Poor"
2013 Ford Escape--"Poor"
2013 Honda CR-V--"Marginal"
2013 Hyundai Tucson--"Poor"
2014 Jeep Patriot--"Poor"
2013 Jeep Wrangler (2-door)--"Marginal"
2013 Kia Sportage--"Poor"
2014 Mazda CX-5--"Marginal"
2013 Mitsubishi Outlander Sport--"Acceptable"
2013 Nissan Rogue--"Marginal"
2014 Subaru Forester--"Good"
2013 Volkswagen Tiguan--"Marginal"

The IIHS did not subject the redesigned 2013 Toyota RAV4 to the new small overlap frontal-impact test. Toyota requested a delay in order to make changes to the RAV4 that might improve the vehicle's performance in the test.