2012 Customer Service Index (CSI) Study Results
3/14/2012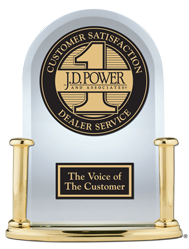 New-vehicle dealers in the U.S. are not only reaping the benefits of renewed consumer confidence amid a recovering economy on the showroom floor. They're also gaining traction in another area of their business: the service department. According to the recent
J.D. Power and Associates 2012 U.S. Customer Service Index (CSI) StudySM
, vehicle owners who visit dealer facilities for service are considerably more satisfied with their experience than with service from independent facilities.
The study examines satisfaction among more than 84,000 verified owners of one-to three-year-old (2009 to 2011 model year) vehicles who visited a dealer service department for maintenance or repair work. Consumers were asked to rate their dealer's service department in five areas: service quality; service initiation; service advisor; service facility; and vehicle pick-up.
Among customers of dealer facilities, overall satisfaction with the service experience averages 38 points higher on a 1,000-point scale, compared with non-dealer facilities (787 vs. 749, respectively). In addition, 79 percent of all service visits among owners of one-to-three-year-old vehicles are performed at dealer facilities--up from 74 percent in 2011 and 72 percent in 2010.
"Steady improvements in vehicle quality, longer intervals between recommended service visits and fewer units in operation have had a positive effect on overall dealer service satisfaction," according to J.D. Power and Associates.
Next
Page 1 of 3